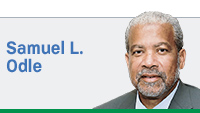 Donald Sterling has caught the attention of America and reminds that the struggle to combat inequality and discrimination is ongoing and that the idea that we are living in a post-racial America is truly inaccurate. Every now and then, the negative perceptions we harbor about those different from us become public and we declare how unacceptable it is in our modern society.
Typically, the existence of racial bias is not as blatant as we see with Sterling. Most of the time, it's not blatant racism; it's that we don't know one another.
That's why a local foundation thought putting a statue of a slave outside the City-County Building would be a good idea. A local school with a small minority population thought serving fried chicken would be an appropriate celebration of Black History Month. It's also why many companies refuse to officially recognize the Martin Luther King Jr. holiday.
Well-meaning, maybe, but founded on ignorance.
The current wave of violence attributed to minorities is another example. We're hiring more police and investing more to protect us from one another and combining these actions with longer sentences in feeble attempts to continue to separate instead of rehabilitate.
Spending more to protect ourselves from our fellow citizens is like the mistake we have made in spending more and more on health care, as expressed in the recent book "The American Health Care Paradox: Why Spending More is Getting Us Less." We spend two or three times more than similar nations spend on health care per person, but complications related to obesity and diabetes continue to rise.
It is disconcerting that, in our community, more money is being directed to paying for more police officers instead of addressing the larger and more complex issues.
Criminal acts that we hire officers to protect us from unfortunately concentrate in the parts of our society that are poor.
The money would be better spent lifting our neighbors up so we don't have to pay so much to be protected from them and ultimately incarcerate them. They get educated, they work, they pay taxes, and they become vital assets to the community.
Paying for more protection has no payback; it's the most unfair tax burden of all.
As a community, we would achieve more by focusing on how we get to know one another better and support one another. We are afraid of those we don't know, and they are afraid of us.
Rather than spending more to increase the number of police on the streets, we should expend resources, human and financial, trying to understand our neighbors—what their needs are—and help to meet those needs so we both can be equal participants in our great human experiment.
America's unique experiment invites our citizenry to the polls again in November. I hope we ask our Marion County candidates how they view these issues and how they would advocate for change.
In the end, we must elect political leaders who want to tackle these difficult concerns head-on. I believe the everyday person on the street will follow a leader committed to articulating a plan to address these issues, especially the gap between the haves and have-nots in our community.•
__________
Odle is the former chief operating officer of Indiana University Health and CEO of Methodist and University hospitals. Send comments to [email protected].

Please enable JavaScript to view this content.