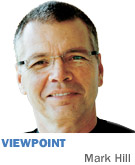 In a June 2016 column in IBJ, I encouraged all of us to think about mass transit in light of a fundamental change in what is increasingly called mobility (Uber/Lyft, autonomous vehicles and smartphones) and how we think about mass transit. This was not just me, but many were thinking this way. The last year and a half has seen discussions in Indy and other cities of how to leverage these technologies to serve our community.

The implications of getting this right are enormous. Better access to school and work for those trying to make life better for themselves, better access to employees for our employers, better access to quality child care, and fewer cars on the road easing our spending on roadwork infrastructure are some key ones, but there are many more.

This is important stuff, way more so than whether we sell alcohol on Sunday. In Indianapolis, we have a widening income gap. What better way to address that gap than by making it convenient for everyone to get to school or work? Michael Hicks, an economist from Ball State University, says mass transit is the number one reason Amazon would not choose Indianapolis. Regardless of Amazon, we want to be the city of choice for young professionals and exciting companies—and mass transit matters.

So, it was disheartening to read in IBJ about IndyGo's plan to spend $510 million over the next five years without a single mention of the major changes taking place in mobility. Rather than starting to think about how to use innovations happening in transportation, IndyGo is doubling down on buying more large buses. Incredibly, one of the innovations mentioned is to lease these buses over 12 years, taking this plan out to 2030. With all that is happening in mobility today, most cities will leapfrog the current paradigm and leverage this opportunity. We should, too.

Obviously, more buses will make routes more convenient and might increase ridership, but is this where Indianapolis should be spending its precious mass transit resources? To give you some context of what $510 million means to Indianapolis, the entire city budget for the year is $1.1 billion.

Since I am not an expert in this field, I do not know the right answers, but I am fairly confident it is not spending more on the current system that has been steadily losing customers. We should look at metrics, like the cost of taking a customer a mile, to determine which mobility solution is right in each part of the journey. The Red Line will be great, but how do we get more people to it?

Indianapolis and central Indiana have the chance to make Indy a better place for all of us. So what are some things we might consider? As a community, we need to decide this is a priority. That choice is not a given; there are many competing priorities, such as crime, education, budget and infrastructure. We should be sure our laws encourage private companies to responsibly use Indianapolis as a place to test these emerging technologies.

Finally, I truly hope IndyGo will take a leadership role in all of this. It uniquely has the funding, and we as a community voted to support that funding through a tax increase. With all of our help, it has the chance to be a great mobility company.•

__________

Hill is managing partner of Collina Ventures.