On a Dec. 21 conference call with analysts, Finish Line Inc. executives used the word "promotional" a dozen times to describe the deep discounting that was undercutting their efforts to sell athletic shoes and apparel at full price. Often, they preceded "promotional" with the words "extremely" or "highly."

That's not lingo that would suggest the stock was going to rise, but that's exactly what happened. It's up 12 percent since that morning, when the company announced better-than-expected fiscal third-quarter results.

In better times, the numbers wouldn't have yielded much excitement. Same-store sales inched up 0.8 percent—snapping a three-quarter streak of declines—and the quarterly loss narrowed, from $40 million to $13 million.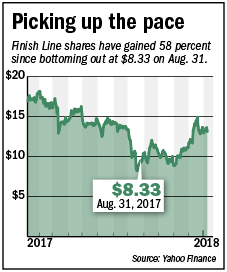 Why the uptick? For one thing, management demonstrated greater aplomb at running a tight ship in a tough environment, in part by controlling inventories. Also fueling investor optimism was that "management sounded more positive on the outlook for more innovation and product newness" from key vendors in the coming year, B Riley analysts Susan Anderson and Luke Hatton said in a report.

Finish Line shareholders were enjoying a nice run-up even before the earnings report—fueled in part by speculation that the Indianapolis-based chain, which operates 566 stand-alone stores and another 378 shops inside Macy's, would be acquired for an attractive price by Sports Direct International, the United Kingdom's largest sportswear retailer.

Fanning the speculation was Sports Direct's aggressive purchasing of Finish Line shares last year, as well as a September story in the New York Post stating that Sports Direct was "moving forward" with a deal to buy Finish Line and that an announcement could come within weeks.

Sports Direct has been unwilling to comment, and the buyout theory might still hold up. But the likelihood seems to have dimmed, in part because four months have passed with no announcement.

Another factor is that Sports Direct recently reduced its stake from 35 percent to 26 percent. And then there's the fact that it acquired most of its stake through derivatives known as "contracts for difference"—an approach that leaves it without voting rights on the shares or a voice on when to divest them. That would seem an odd approach if a buyout were the end game.

Without a sale, a long slog might be ahead, given that Finish Line's fortunes are inextricably tied to Nike, which accounts for 70 percent of the retailer's sales.

Camilo Lyon, a veteran retail analyst with Cannacord Genuity, said last fall that the Oregon-based giant's 2-year-long cold streak in terms of game-changing product launches was directly to blame for the discounting that dogged athletic retailers.

"We firmly believe that this downturn in the athletic category is product-driven, and it starts and ends with NKE," Lyon said in a report, referring to the shoe giant by its ticker symbol.

Matt Powell, vice president of the market research firm NPD Group, wrote on his Sneakernomics blog this month that better times are not imminent.

"I have low expectations for athletic footwear in 2018. Brands have stated that they will tighten advertising policies to try and rein in the rampant promoting we saw in 2017," he wrote. "While these are the right steps to recovery, it means that in the short term retailers and brands will do less business. Acceptance of this fact is the first step to improvement."•