Mayor Joe Hogsett has joined the chorus of community leaders and downtown residents expressing concern with the Indiana Department of Transportation's north-split interstate project planned for downtown.
Critics say the project—which would reconstruct the I-65/I-70 interchange on the northeast edge of downtown—would be detrimental to downtown neighborhoods. They favor alternatives they consider more neighborhood-friendly.
INDOT is in the early design phase of the project, which is estimated to cost $250 million. It would add lanes on both interstates, widening some bridges and adding others, and reconfiguring the I-65 exit and entrance ramps along 11th and 12th streets.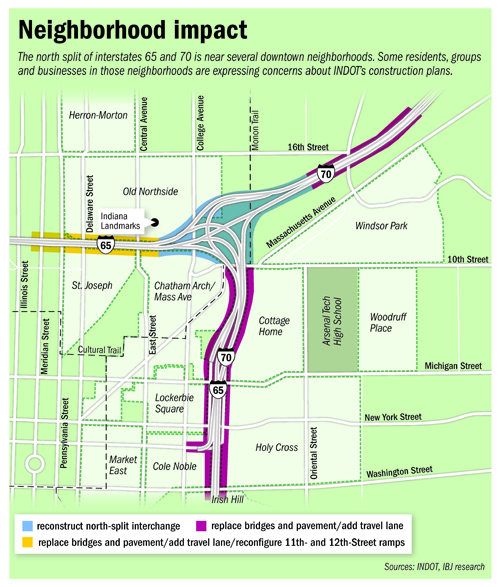 In a letter to INDOT this week, Hogsett said construction of the interstate system in the 1960s and 1970s negatively "changed the character of downtown Indianapolis and its neighborhoods." While downtown bounced back and has emerged "as a national success story for urban revitalization," the project may threaten that progress.
"Many fear a traffic solution that simply widens the existing elevated system could—for a second time—devastate our city's historic core and the neighborhoods that line the right-of-way on all sides," Hogsett wrote in the letter.
He added: "Peer cities such as Austin and Dallas, Texas, and Columbus, and Cincinnati, Ohio, have established national best practices, devising context-sensitive solutions to urban right-of-way challenges. I would encourage the state to consider at-grade alternatives that would sufficiently move traffic and meet INDOT's needs while reconnecting our neighborhoods and street grid."
IBJ reported Monday that the Indy Chamber also is asking INDOT to explore alternatives.
One widely discussed alternative was developed by local urban designers Kevin Osburn of Rundell Ernstberger Associates and Meg Storrow and John Kinsella of Storrow Kinsella Associates. Their idea, which this month began appearing online and on social media posts, proposes turning the existing downtown interstates into what's called a multimodal road that would include space for pedestrian walkways and landscaping. Through traffic would be routed either onto I-465 or through downtown underground tunnels.
INDOT spokesman Andy Dietrick emphasized earlier this week that the department's planning process includes room for public input. He said INDOT has met with critics of the plan is considering the ideas from Osburn, Storrow and Kinsella.
"Those didn't fall on deaf ears," he said of the designers' ideas.
In assessing alternatives, Dietrick said, INDOT considers a range of factors, including cost and engineering feasibility, as well as impact on everything from traffic and historic structures to noise and local businesses. At the same time, Dietrick said INDOT is "not in a position to take a significant pause" in the project. Construction is not expected to start before 2019.
Please enable JavaScript to view this content.