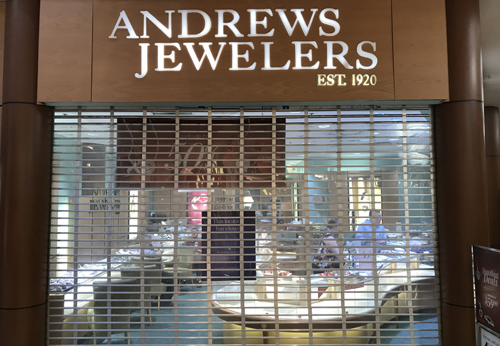 One of Circle Centre's original tenants has added itself to the list of traditional shopping center retailers fleeing the downtown mall.
Andrews Jewelers on the south end of the second floor is no longer selling its rings, bracelets and necklaces, after more than 22 years at the mall.
Employees on Monday afternoon could be seen packing up jewelry, with the gates to the entrance of the store down. A sign inside one gate read, "This location has closed." A woman who answered the phone at Andrews Jewelers declined to comment.
Minus the Circle Centre location, Andrews Jewelers operates six stores in Indiana, including one at Greenwood Park Mall. That store remains open, according to an employee who answered the phone there.
In 2013, Circle Centre renewed Andrews Jewelers' lease, according to an annual report from the mall's manager, Simon Property Group Inc.
The downtown mall has been shedding tenants in recent years, as online outlets continue to cut into traditional brick-and-mortar sales and change the way people shop.
The Loft, The Limited and Talbots were among the retailers that left Circle Centre last year, following Abercrombie & Fitch, Johnston & Murphy, Gap, Gap Kids, American Greetings, Yankee Candle Co. and Johnny Rockets in 2016.
Non-shopping tenants have helped to fill the void, however. Burger Study, a gourmet burger concept created by the owners of Harry & Izzy's and St. Elmo Steak House, has joined Primanti Bros., Punch Bowl Social, Nada and Yard House with street-level presence in the mall's footprint.
Burn by Rocky Patel, an upscale cigar lounge, also is slated to open in the mall at the corner of Maryland and Meridian streets, in part of the former Nordstrom space.
On Monday, Bon-Ton Stores Inc., the parent of retailer Carson's, disclosed that it plans to close 45 stores in 2018. It wasn't clear whether that would include the Carson's that serves as Circle Centre's lone anchor tenant.
Two years ago, mall manager Simon Property Group Inc. pitched a $20 million revamp of the mall to its ownership group, which includes Simon and more than a dozen local companies that helped fund the original project in the early 1990s. That work has yet to occur.
Please enable JavaScript to view this content.