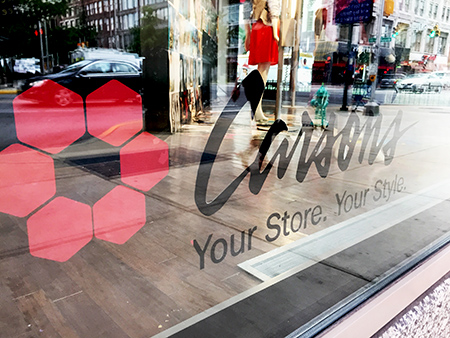 Bon-Ton Stores Inc., the struggling parent of retailer Carson's, disclosed Monday that it plans to close 45 stores in 2018 and could seek to restructure debt and other obligations under the protection of bankruptcy.
Bon-Ton operates 260 department stores under several names across 24 states, including one Carson's in Indianapolis that's in Circle Centre mall downtown. It also has a Carson's store in Mounds Mall in Anderson. Carson's has been Circle Centre's sole anchor since Nordstrom closed in 2011.
The company said in a filing with the U.S. Securities and Exchange Commission that it plans to close 12 of its 53 Carson's stores but didn't specify locations. Under the plan, 16 Bon-Ton locations also would shut their doors, along with seven Younkers and six Elder-Beerman stores—plus four locations of three other brands.
The 53 Carson's stores had combined brick and mortar sales last year of $550 million, down 11 percent from 2016, the SEC filing said.
Even so, Bon-Ton suggests in the filing that it still has confidence in the Carson's name, saying it will rebrand 11 Bergner's and 13 Boston Store locations under the Carson's banner.
The 45 stores Bon-Ton plans to close account for about $200 million in sales but contribute minimal earnings, Bon-Ton said in the filing. The company expects the closings will save $4 million in rent.
In addition, Bon-Ton said at least 20 more stores in its portfolio should be put on a "watch list to monitor for signs of further deterioration."
In November, Bon-Ton reported it would close 40 stores. Bon-Ton CEO Bill Tracy said at the time that most of the closures likely would be smaller, leased stores with negative cash flow.
The downtown Indianapolis store would not fit under the "smaller" category. The three-story anchor occupies 145,000 square feet, or about one-fifth, of the 800,000-square-foot mall.
The city of Indianapolis in early 2107 extended its Circle Centre lease with the retailer for five years, an agreement aimed at keeping Carson's in the mall until at least January 2023. Because of its importance to the shopping center, the retailer received healthy rent reductions.   
A spokesman for Simon Property Group Inc., which manages the mall, declined to comment on Bon-Ton's announcement on Monday, saying it can't speak for the retailer.
Bon-Ton's turnaround plan would extend through 2019. The company said the changes would "enhance Bon-Ton's performance and regain ground lost due to recent challenges." Bon-Ton said it might restructure its more than $1 billion in debt out of court or might file for Chapter 11 bankruptcy protection.
If the latter were the vase, the filing would be made by Feb. 4, according to a term sheet for the restructuring included in Monday's SEC documents.
Shares of Bon-Ton dropped 1.7 percent in Monday morning trading, to 17 cents each.
The company has dual headquarters in Milwaukee and York, Pennsylvania.
Please enable JavaScript to view this content.