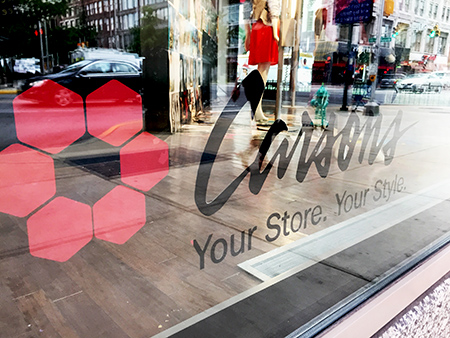 The owner of the department store chain Carson's has decided to close its three-story location in downtown's Circle Centre mall.
The store is one of more than 40 locations slated for closure by Bon-Ton Stores Inc., the struggling parent of Carson's and other mid-tier department store brands. Bon-Ton indicated in November that it would close dozens of stores, and it announced specific locations on Wednesday afternoon.
Bon-Ton also announced that it would close its Carson's stores in Anderson, Marion, Columbus and Elkhart.
The impending closure of Carson's at Circle Centre will represent a huge hit to the 22-year-old downtown mall. Carson's has been its lone anchor store since the departure of Nordstrom in 2011. The Carson's store occupies 145,000 square feet, or about one-fifth, of the 800,000-square-foot mall.
The city of Indianapolis in early 2017 extended its Circle Centre lease with the retailer for five years, an agreement aimed at keeping Carson's in the mall until at least January 2023.
Because of its importance to the shopping center, the retailer received healthy rent reductions.
The department store's lease had been scheduled to expire in January 2018. Under the new deal, Carson's agreed to the same terms of the previous agreement in 2014, when the city of Indianapolis negotiated a rent-reduction deal saving Carson's $300,000 annually for three years to keep the store from leaving.
When city officials agreed to the rent-reduction deal, they acknowledged in a memo that finding a replacement would be unlikely.
"Retaining [Carson's] at the mall is of heightened importance because [Simon] has been unable to find another tenant that is willing (without tens of millions of dollars of cash incentives) to operate a department store in the mall," the memo said.
A liquidation sale will begin Thursday and could run for as long as 12 weeks, Bon-Ton said in its announcement Wednesday.
The loss of Carson's is just the latest challenge for the downtown mall, which still has not moved forward with a $20 million renovation that developer and manager Simon Property Group Inc. proposed nearly two years ago. It has suffered a steady exodus of smaller retailers from its interior corridors.
At least a dozen traditional retailers have left in the past few years, including Abercrombie & Fitch, The Loft, The Limited, and Gap and Gap Kids, giving way to the likes of a second GlowGolf location, eyebrow threading boutique, and a convenience store.
"This is not a surprise. Everyone knows Carson's was in a weakened state, and those anchor stores are dropping like flies," said Mike Wells, president of Indianapolis-based real estate developer REI Investments Inc. Wells was an adviser to Mayor Steve Goldsmith when the mall was built.
Indianapolis-based Simon, one of the world's largest owners of high-end retail centers, has switched gears on Circle Centre in recent years, adding restaurants and untraditional users to vacant space in the mall. The new eateries at street level have included Yard House, Punch Bowl Social, Nada, and Burger Study.
For-profit educator Brown Mackie College, which occupied 25,000 square feet in a fourth-floor area that formerly featured night clubs, closed in June 2016.
Circle Centre opened in September 1995. It was the result of more than a decade of planning by Simon and city officials eager to create a critical mass of high-end retail downtown and a destination for both city residents and visitors.
The city, which owns the land on which the mall sits and the building itself, leases the property to Circle Centre Development Co., a partnership of Simon and 19 other local companies that provided $75 million toward the mall's $320 million development cost.
Circle Centre has been widely hailed as a keystone achievement in the ongoing effort to energize the Mile Square and make it more resident- and pedestrian-friendly.
In a regulatory filing on Monday, Bon-Ton said that its stores slated for closure accounted for about $200 million in sales but contributed minimal earnings. The company expected the closings would save $4 million in rent.
The company has dual headquarters in Milwaukee and York, Pennsylvania.
This is a developing story and will be updated.
Please enable JavaScript to view this content.