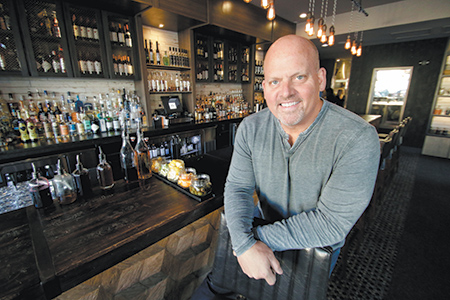 Serial restaurateur Mike Cunningham is beginning to confront a challenge many in his shoes would surely welcome.
His stable of eateries has swelled to 24, including downtown hot spots Bru Burger, Livery, Mesh, Union 50 and Vida.
Yet Cunningham and his comrades are wondering when it might be time to ease off the gas pedal and stop introducing new concepts.
"Now the question is, how much is too much? That's what we're kind of struggling with," the 54-year-old said from his group's downtown office on Fulton Street.
Even so, Cunningham is confident there's still room to grow, with plans to take over the closed Old Point Tavern on Massachusetts Avenue in April and Cerulean at The Alexander hotel in CityWay the following month.
He also eventually would like to have a presence in Broad Ripple and Fountain Square. Same goes for the Indianapolis International Airport's food court and Hendricks Commercial Properties' $260 million Bottleworks mixed-use project at the old Coca-Cola bottling plant site on the north end of the Mass Ave Cultural District.
Cunningham has an existing relationship with Hendricks, having opened Provision and Rize last fall in the Wisconsin-based developer's Ironworks hotel, giving him a presence in the posh Keystone at the Crossing area on the city's northeast side.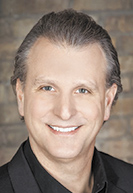 Gerbitz
Hendricks intended to operate its own restaurant in the hotel before turning to Cunningham, who met the challenge of tight deadlines, Hendricks CEO Rob Gerbitz said.
"He's very driven to make things happen," he said. "He's straight up and honest."
It would be foolish to bet against him. Cunningham has built enough credibility over the last 30 years that he can choose his destinations. He's in such demand that most real estate developers have him on speed dial, hoping they're lucky enough to land him as a tenant.
"He is the dominant restaurateur in the Indianapolis market by far," said Steve Delaney, a veteran retail broker at CBRE.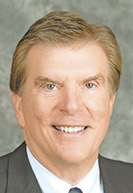 Delaney
That's quite a climb from his days busing tables as a youngster in Cincinnati. At just 8 years old, he cleared dishes for a share of tips at a Skyline Chili.
The youngest of nine, including two sets of twins, he followed in the footsteps of his older siblings—all of whom worked at one time or another at the Queen City-based chili-chain's same location, its second-oldest.
Cunningham's father, a mail carrier, provided for his eight sons and one daughter, but it wasn't easy, especially given that his mother gave birth to nine children in eight years.
So, the Cunningham kids ponied up half their earnings from their jobs to the family, to help make ends meet.
"Anything we wanted, we realized we would have to work for," Cunningham recalled. "We didn't know any differently."
He attended the Catholic Roger Bacon High School and played basketball through his junior year, but hung up his sneakers as a senior to work full time washing dishes at Skyline.
Though the work was far from glamorous, Cunningham was bitten by the restaurant bug.
"I never felt like I was going to work," he said. "It was a social thing."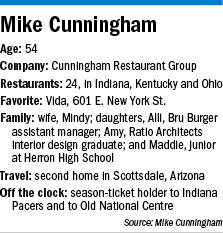 A budding restaurateur
Following graduation, Cunningham enrolled in a hospitality and restaurant program at a local technical school and later landed a job with the Ground Round casual dining chain as a kitchen manager.
In 1985, he was transferred to Indianapolis, where he met Ed Sahm, who had graduated from Purdue University and was a Ground Round kitchen manager, too.
Sahm has become a successful restaurateur in his own right, operating more than a dozen eateries under the banners Sahm's, Rockstone Pizza and Big Lug Canteen.
When Sahm left Ground Round to open his own place, Cunningham soon became his first general manager.
Expanding on their relationship, the pair in 1987 began opening Big Chill frozen yogurt shops. A decade later, they added a Boulder Creek Dining Co. in Brownsburg.
Sahm, who later sold his Boulder Creek stake, isn't surprised by Cunningham's success.
"Mike was super-talented," he said. "He was really diligent and always very organized, almost by the book."
That might have something to do with the time a Ground Round supervisor caught him measuring a 6-ounce serving of rice by eyeing it instead of weighing the portion, as required.
The supervisor, who had just given Cunningham a 25-cent raise, pulled the bonus before reinstating it later, after Cunningham had learned a valuable lesson.
"He was adamant about details, but I also learned from him," Cunningham said.
The Big Chill grew to five locations before fading with the frozen yogurt fad, morphing into Chill & Grill in Avon, which closed in 1997.
By then, Cunningham, at 33, had built up enough experience, and respect from lenders, to be taken seriously.
"It allowed us on paper to at least look like we knew what the hell we were doing, so when it came time to finance Boulder Creek, we had a [profit and loss statement] that looked pretty strong," he said.
The concept for Boulder Creek originated from visits Cunningham and his wife, Mindy, made to her brother in Boulder, Colorado. The idea was to provide a mountain-lodge-themed restaurant where people could feel as though they were on vacation, he said.
The experience proved so positive that patrons began asking if the restaurant were a national chain, recalled Cunningham, who took the comparison as a compliment. Today, not so much.
"There was always a heavy investment in decor and to create an environment that people were attracted to," Cunningham said. "I think that's a key component even today, to create spaces that people have a certain connection with."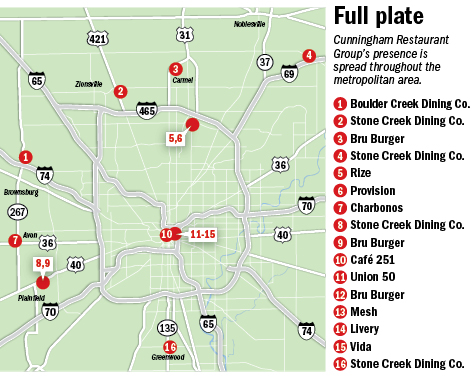 Eye for design
Locally based Phanomen Design is charged with creating the interior look of his restaurants, though Cunningham is heavily involved. On one recent day, he had two meetings with Phanomen owner Loree Everett.
Cunningham has used Phanomen since opening Bru Burger on Mass Ave in late 2011. That's also when he hooked up with Patrick Heitz, owner of Zionsville-based Craft Construction Management LLC, who's been building out his restaurant spaces since.
Heitz recalled the day the two first walked into the union hall at 620 N. East St.—what later would become Union 50—and he heard Cunningham envision his plans for the space at first glance.
"He immediately walked in and saw what it could be," Heitz said. "I give him a lot of credit; he has a good eye."
In 2016, online-reservation service OpenTable named Union 50 to its annual list of the "100 Hottest Restaurants in America," the only dining spot in Indiana to make the list.
Matt and Jane Stegemiller, downtown residents who dine at a Cunningham restaurant at least once a month, deem Vida their favorite but appreciate the variety he's brought to the downtown dining scene.
"He's done a really good job of putting together a collection of establishments that have really good personalities," Jane Stegemiller said. "They're all different."
Vida is the only Indianapolis restaurant to earn AAA's coveted Four Diamond award.
Cunningham declined to divulge company revenue but said every one of his restaurants is profitable.
Amid all his success, Cunningham has weathered a bit of social media backlash lately over his plans for the former Old Point on Mass Ave.
He is leasing the space from Chip and Patti Perrin, who operated Old Point for a quarter-century and still own the building.
Cunningham is installing a kitchen and replacing the steam table that provided a limited menu, to offer items in the $10 to $18 range. He plans to change little else about the iconic bar besides renaming it the Tavern at Old Point, in keeping with tradition. Still, he's heard an earful from the bar's faithful, much to his chagrin.
"The people that are angry are the people who were getting strong cocktails, or free cocktails," he said. "I'm a little peeved by all the negative bullshit that came out. It was pretty rude."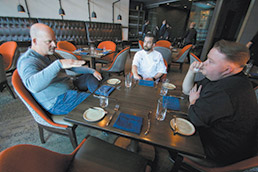 Mike Cunningham, left, talks with Vida Executive Chef Thomas Melvin, center, and Chef Layton Roberts about potential opportunities for new restaurants. (IBJ photo/Lesley Weidenbener)
Core values
That's about as animated as Cunningham gets, thanks to his adherence to the company's core values—which he and his leadership team put to paper in 2009, when the company began to grow.
Honesty, respect and fairness are part of the values Cunningham impresses upon new managers who visit the downtown headquarters for orientation. There, he assures the managers he'll never yell or scream at them and instead will rely on the company's values to direct operations.
The values became official when Cunningham brought aboard Michael O'Donnell as chief operating officer to help lead growth. Back then, Cunningham had only seven restaurants. O'Donnell's restaurant background includes a stint as a partner in the local Ruth's Chris Steak House ownership group.
By the end of this year, the number is expected to swell to 30. Besides the takeovers of Old Point and Cerulean, Cunningham plans to open Bru Burger outposts in Noblesville, Lafayette and Fort Mitchell, Kentucky. And a Livery is planned in South Bend, as part of Kite Realty Group's Eddy Street Commons south of the University of Notre Dame.
One place Cunningham won't put down stakes is at The Yard at Fishers District, he said. The Yard, which is being developed by Terre Haute-based Thompson Thrift Retail Group, is expected to include as many as 30 food and entertainment businesses.
But with Thompson Thrift quoting rents of $35 to $40 per square foot—rates Cunningham deemed too expensive and not worth the risk—he decided to pass.
"We're constantly being presented with opportunities," Cunningham said. "It was never a grand plan to build a company of this size and have 1,700 employees. But things evolve, and you do things that make sense."
About five years ago, Cunningham moved his company's offices from Avon to downtown, a central location that makes traveling to his restaurants more convenient.
He and Mindy followed a few years later and live atop the office in a condominium. Their youngest of three daughters, Maddie, is a junior at Herron High School.
Mindy doesn't cook, so they often frequent a Cunningham restaurant. On the rare occasion they do eat at home, it's often delivery from ClusterTruck.
Cunningham has a stake in that operation, too, as head of food operations.•
Please enable JavaScript to view this content.