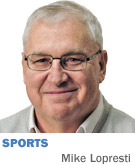 The first Sunday in February is approaching, with the same old, same old. The Indianapolis Colts still trying to fix what's wrong, and the New England Patriots are dressed for another Super Bowl. This is like the movie. They should have played the game on Groundhog Day.

Suffering from the Patriot Flu? Is the thought of Bill Belichick almost smiling as they hand him another Lombardi Trophy enough to put you off your Super Bowl party wings? Can't stand the thought of Tom Brady waving with yet another game MVP award in his hand? Perfectly understandable. And yet ...

The B&B Dynasty is now in its 17th year, and that is nothing short of remarkable in the NFL. The non-Patriot-speaking world doesn't have to like it. In fact, the world can hate it. Lots of Indy folks do. But the world really should respect it, because we are seeing something that is not likely to happen again in eons. It must be appreciated, even with clinched teeth.

Let's put the Colts and Patriots side by side and see what shakes out.

The day Brady threw his first Super Bowl pass, Andrew Luck was 11 years old. The guy he is trying to beat Sunday, Philadelphia's Nick Foles, was 13.

Since Belichick started winning Super Bowls for the Patriots, the Colts have had four different head coaches, with a fifth on the way.

If New England wins Sunday, the Patriots will have won more Super Bowls in the past five years than the entire history of the Baltimore/Indianapolis Colts franchise. They will also have as many this century as the rest of the AFC. And only one fewer than the entire NFC.

It is now eight years since the last Colts trip to the Super Bowl. Since Brady became quarterback, the longest gap between Patriots trips has been four seasons.

The Patriots could become only the second team in history to win a Super Bowl on Feb. 4. The first? Your Colts in 2007.

There have been four Super Bowls won with comebacks of at least 10 points. The Patriots won two of them. The Colts lost another.

Belichick is three years older than Tony Dungy. He has been to four Super Bowls since Dungy retired. If the Patriots succeed on Sunday, he will have won three of them since he was 58—which Jim Irsay is now.
Turning 66 in April, Belichick would also become the oldest coach ever to win a Super Bowl. Vince Lombardi was 11 years younger on his last Super Bowl, Tom Landry 12, Dungy 14, Chuck Noll 17, Mike Ditka 19 and Don Shula 21.

Now 40, Brady would become the oldest quarterback ever to win the Super Bowl. The geezer he'd pass? Peyton Manning.

The only quarterback to beat Brady in a Super Bowl is Eli Manning. Twice. The quarterback who handed Brady three of his fours AFC Championship Game defeats is Peyton Manning. Now it's Foles' turn to try in the Super Bowl. He played at Westlake High School in Austin, Texas, where he set a lot of records formerly held by a kid who was on his way to Purdue. Drew Brees.

The oldest player ever to appear in the Super Bowl is Matt Stover, for the Colts in 2010. If Brady is back in two years, he'll pass him.

Brady is the all-time leader in Super Bowl completions with 207. Peyton Manning is No. 2, 104 completions behind. Joe Montana is 124 behind.

This would be the second time the Patriots repeated as Super Bowl champions. When the Colts had that chance, they lost their first playoff game at home the next season to the San Diego Chargers, who in the fourth quarter were without both their starting quarterback and leading rusher.
Eli and Peyton Manning have won four Super Bowls between them and thrown four touchdown passes. Brady has won five, and thrown 15.

Brady is one of 11 quarterbacks to start a Super Bowl wearing the jersey No. 12. Peyton Manning is the only one ever to win No. 18.

When Sunday is over, Brady will have quarterbacked and Belichick will have coached in one of every 6.5 Super Bowls ever played. With a victory, they will have won one of every 8.7.

Root against them with gusto, if you want. But the Colts should be so lucky to be so hated for always being there.