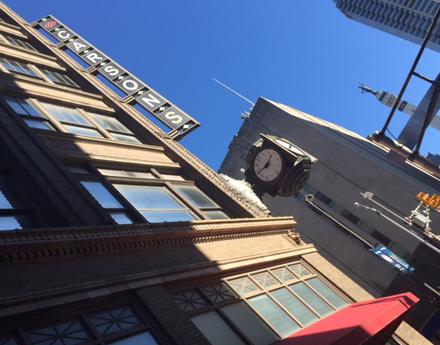 The parent firm of department store chain Carson's has notified state officials that it will lay off 306 employees by closing its five locations in Indiana.
Bon Ton Stores Inc. announced on Wednesday that it planned to close the Carson's stores in the near future as part of a broader cost-cutting strategy across its stores nationwide.
The three-level Carson's in Circle Centre mall in downtown Indianapolis is the largest of the five locations. The other stores are located in Anderson, Columbus, Marion and Elkhart.
The notice filed Monday by Bon-Ton with the Department of Workforce Development did not specify how many employees worked at each store. A Bon-Ton spokeswoman did not immediately reply to questions from IBJ.
The stores are among more than 40 locations slated for closure by Bon-Ton, which operates Carson's other mid-tier department store brands. The firm filed for Chapter 11 bankruptcy protection on Sunday, hoping to reorganize its finances and stay afloat.
Liquidation sales at the locations started on Friday. Bon-Ton has not announced a date for the closures.
The impending demise of Carson's at Circle Centre will represent a huge hit to the 22-year-old downtown mall. Carson's has been its lone anchor store since the departure of Nordstrom in 2011. The Carson's store occupies 145,000 square feet, or about one-fifth, of the 800,000-square-foot mall.
The city of Indianapolis in early 2017 extended its Circle Centre lease with Carson's for five years, an agreement aimed at keeping the retailer in the mall until at least January 2023.
Because of its importance to the shopping center, the retailer received healthy rent reductions.
The department store's lease had been scheduled to expire in January 2018. Under the new deal, Carson's agreed to the same terms of a previous agreement reached in 2014, when the city of Indianapolis negotiated a rent-reduction deal saving Carson's $300,000 annually for three years to keep the store from leaving.
Please enable JavaScript to view this content.