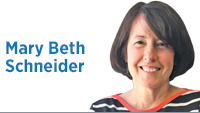 Think that any combination of Republicans and Democrats that gets 51 votes in the Indiana House or 26 votes in the Indiana Senate assures passage of a bill?
Bless your heart.
More often than not, legislative leaders—both in the Statehouse and in Congress—require that a bill have the support of a majority of the majority to even get a floor vote.
And they make that decision in debate behind closed doors, in a political-party caucus.
It's Republicans that have the majorities now, but this was just as true when Democrats held the U.S. House.
In Congress, this is called the "Hastert Rule"—even though it's not a rule, just a made-up partisan demand. (And no one should be calling anything after Dennis Hastert, the former speaker of the U.S. House who just got out of prison on charges that stem from sexual abuse of students.)
Right now, a coalition of Democrats and many Republicans in the U.S. House and Senate would vote for a stand-alone bill to protect the so-called Dreamers—U.S. residents brought here illegally as children. Yet GOP leaders won't allow that. They want a bill that would pass with a majority of Republicans—and just enough Democrats in the Senate to avoid a filibuster.
And in Indiana, bills that would tell judges to impose stiffer sentences if a crime was committed due to a bias against a particular race, religion, gender, sexual orientation or gender identity have routinely died. Would they have passed if they had made it to the floor? No one knows, because there hasn't been a vote.
The most recent attempt failed last month after Senate President Pro Tem David Long, R-Fort Wayne, said Republicans could not reach consensus.
Republicans. Not lawmakers. Republicans.
The same thing happened in 2016. Senate GOP leaders met privately and killed a hate-crimes bill that had passed out of committee because, Long said, the bill didn't have enough support from Republicans.
There was no debate on the floor, much less a vote.
And the reasons for the opposition remain behind closed doors, in private-party caucus meetings, with the public not privy to the debate at all.
Now, I've got questions myself about how to address the genuine issue of hate-motivated attacks in Indiana while not running afoul of the First Amendment. But 45 other states have managed it, and Indiana's failure stands out like a big red pimple as the state courts a new Amazon headquarters.
The problem of keeping debate private also extends to controversial bills that do make it to the floor of the House or Senate. The minority party sends person after person up to offer amendments or speak against the bill, and majority-party members sit silently at their desks offering no comments at all until they push the green button to vote "yes."
Julia Vaughn, who, as policy director for Common Cause Indiana, has fought for years to bring more sunshine to the legislative process, said the system of keeping serious debate behind closed doors "whitewashes issues and denies the public the right to hear deliberations."
"All the public gets to hear is the edited-for-public-consumption version," she said. "It's certainly helping the parties to not air dirty laundry, but getting to see the dirty laundry is essential to understanding how they got to their conclusion."
You have to ask yourself, what is so politically or personally embarrassing about their view on a bill that they can say it in private but not in public?•
Click here for more Forefront columns.
__________
Schneider covered Indiana government and politics for The Indianapolis Star for more than 20 years. Send comments to ibjedit@ibj.com.

Please enable JavaScript to view this content.