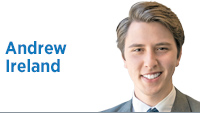 Upstaging a steely, industrious background, U.S. Rep. Joe Kennedy III of Massachusetts relayed the official Democratic response to the State of the Union Address. As viewers watched a political scion of the sincerest form, hopes were high for a glimpse of our cherished past.
Instead of technicolor whispers of a legacy lost, Kennedy's canned passion and flat prose better captured the vogue "Stronger Together"-ism that is crippling our nation.
Stronger Together, of course, was a call to action for pro-European Union forces during the United Kingdom's Brexit referendum. Likewise, Hillary Clinton's 2016 data-driven campaign led by Madison Avenue luminaries shifted to this line in its final months.
On its face, the popular slogan rings of unity, but in practice it lacks sincerity.
Kennedy derided President Trump and the Republican Party he helms as racist, entitled and uncompassionate. "For them, dignity isn't something you're born with but something you measure, by … the gender of your spouse, the country of your birth, the color of your skin, the God of your prayers," he beamed.
Embracing a hallmark of the Stronger Together rhetoric, Kennedy equated common, legitimate differences in policy with the most guttural, abhorrent sects of American society. And, like the infamous "basket of deplorables" comment by Clinton and the vile smears of racism by leaders of the British movement to remain in the EU, Kennedy's demagoguery is cancerous.
Our nation cannot afford to view political opposition as an absence of morality, a defect of the heart and soul of a man. A tax cut is not an unconscionable act of class warfare. Sharp debate on our immigration and naturalization laws is not a racial assault.
There is no strength, no sense of togetherness with this visceral approach.
Our republic can still prosper at times of political uncertainty, but it will surely falter if divided socially.
Practically, Stronger Together has already proven to be a losing strategy. However, as this rhetoric festers, it weakens our nation and needlessly divides its people.
"This administration isn't just targeting the laws that protect us; they are targeting the very idea that we are all worthy of protection," Kennedy continued.
Language like this isn't worthy of the office Kennedy holds. Instead of building a united coalition of all Americans—the explicit goal of the Stronger Together mantra—Kennedy and others have embraced a uniquely Orwellian cause: deepening division in the name of unity.
Instead of a beautiful overture, Stronger Together strikes a dissonant hiss. Like a modern brand of McCarthyism, deeply personal attacks on the character and fitness of political opponents seem ingrained in the Stronger Together movement.
It doesn't have to be this way. Political opinions could be just that—political.
Looking ahead, Congress is slated to take up a number of blockbuster bills this term. Namely, a massive infrastructure spending bill, a long-delayed budget deal and a sweeping immigration package.
As the new year begins, here is my plea to these leaders: For the sake of our nation, choose engagement on these issues, not resistance; constructive debate, not reckless parroting. All Americans deserve better.
Perhaps Kennedy and the movement he was selected to represent can still learn from its heritage. As President John F. Kennedy crystallized in 1963, "If we cannot now end our differences, at least we can help make the world safe for diversity."
It is time for Democrats to step up and recapture the optimism of Stronger Together.•
Click here for more Forefront columns.
__________
Ireland is a Robel Scholar at Indiana University's Michael S. Maurer School of Law and a digital media consultant. Send comments on this column to ibjedit@ibj.com.
Please enable JavaScript to view this content.