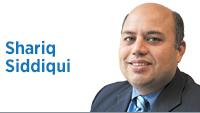 As an immigrant, an attorney who has practiced immigration law and someone who believes there should be a permanent solution for DACA, I am deeply concerned by the rhetoric on immigration that seeks to fundamentally change our system. Ending chain migration might be an effective political tool, but it's a myth that this choice will solve immigration problems. Let me explain.

In order to immigrate to the United States, one has a few limited pathways. Primarily, you can be sponsored by an immediate relative, employers may sponsor you if they can't find local employees at an established prevailing wage, and you can enter the diversity lottery (very small number).

Ending chain migration seeks to limit the ability of American citizens to sponsor their immediate relatives. Immediate relatives include spouses, children, parents and siblings. In order to sponsor an immediate relative, one has to show financial ability and also agree to reimburse the United States if the immediate relative needs welfare.

Furthermore, there is a very long wait for an immediate relative. According to a January visa bulletin from the U.S. State Department, the agency is currently processing cases filed in June 2004 for siblings, married children of U.S. citizens cases filed in October 2005, and unmarried children's cases from December 2010.

Once these people persevere these very long checks, they have to go through medical examinations, security clearances and police clearances—and the sponsor has to show that he or she still has financial ability before the case can move forward.

This isn't an easy process.

The importance of the family is a fundamental American value. Changing our immigration system to prevent the reunification of families seems to undo a core American value.

The rhetoric supporting an end to chain migration seems to be that families come to the United States and become a burden to society. But as someone who has taught courses on immigration and labor, I would argue (and data supports) that immigrants come here to work hard.

There is room to reform our immigration system. But holding hostage those who were brought here as children and know no other country as their home is wrong.

I was disappointed in the last major bipartisan effort to reform immigration during President Barack Obama's term. Democrats joined Republicans to abandon family immigration as a pathway for immigration for undocumented Americans. I was part of faith coalitions that sought to have a pathway for undocumented Americans to come out of the shadows.

I believe we should keep these issues separate. We need a solution for DACA recipients. They should be allowed a pathway to citizenship. We should find a way to help undocumented Americans come out of the shadows. Both these groups have helped our economy, society and culture. Not finding an equitable solution that honors their contributions to our nation is wrong.

However, if we are to fundamentally change our immigration system, that should be a broader conversation—not folded in as part of the rhetoric of an immediate deal.

If Democrats cave to Trump and the GOP on family immigration, they are embracing a policy that has at its center racism and bigotry.

As an immigrant, a former immigration attorney and someone who has taught immigration and labor courses, I know chain-migration problems are a myth.•
Click here for more Forefront columns.

__________

Siddiqui is an attorney, has a doctorate from the Lilly Family School of Philanthropy at IU and leads the Association for Research on Nonprofit Organizations and Voluntary Action. Send comments to ibjedit@ibj.com.