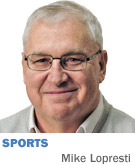 GREENSBURG—Four years ago this March, Greensburg was living a golden age in high school basketball. Back-to-back 3A state championships, three losses in three seasons, a team that became the most beloved treasure in town, or at least as beloved as the tree in the Decatur County courthouse.

Maybe just as impressive was what came next.

Five starters, five college offers in three different sports. All from a town of 12,000.

"Once in a lifetime," said Sean Sellers, destined for basketball at Ball State.

"Unheard of," said Macy Holdsworth, who would go to Indiana University for baseball, then the University of Indianapolis.

Their last game together was March 29, 2014, when they blew through Bowman Academy 89-76 to repeat as state champions and finish a three-season tour de force with a 77-3 record. Four years later, their championship rings are in basements or bedrooms. Meanwhile …

Bryant McIntosh is finishing his career at Northwestern as the career leader in assists.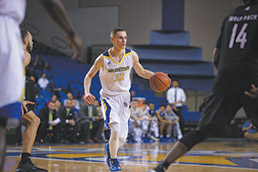 Ryan Welage is the leading scorer for San Jose State. (Photo courtesy of San Jose State University)
Ryan Welage, one year behind the other four, is the leading scorer for San Jose State, and closing in on the school's career 3-point record.

Sellers is nearing the school career record in 3-pointers at Ball State.

Holdsworth comes off a .320 last season as UIndy's shortstop and was one of the toughest strikeouts in the nation—10 times in 150 at-bats.

Collin Rigney, one of the state's best tennis players in high school, is on the mend for Ball State tennis from a shoulder injury.

They keep an eye on one another. Text one another. Root for one another.

"You can probably see why they were so successful," said Stacy Meyer, then and now Greensburg's coach. "They're pretty grounded. They're rooted in their family and their community. Just a special group of young men we'll never have again."

An oral history of a fairy tale made for Indiana …

In the beginning there was Rigney and Sellers, both Greensburg natives.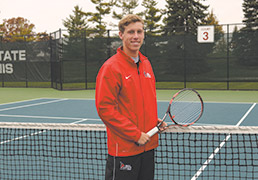 Collin Rigney is recovering from shoulder surgery at Ball State. (Photo courtesy of Ball State University)
Rigney: "We were really good friends from the time we were born. My mom babysat him."

As the years went by, the other pieces fell into place. Welage was born a year later. Holdsworth arrived in Greensburg as a freshman, McIntosh as a sophomore.

Welage: "I played against Bryant in travel ball, seventh or eighth grade. I actually didn't know his name. I just remember playing against a really good point guard. When he moved in, my dad saw him and said, 'He's the guy who torched us in the seventh grade.'"

Holdsworth: "Even though we didn't grow up together, it feels like we were together for so much longer than just those years."

Something special was in the wind.

Holdsworth: "We talked about the Lawrence North team with Greg Oden and Mike Conley and the way they swept three championships. It was a realistic goal for us. When we went unbeaten my sophomore year, it seemed like we were on our way."

They took a 23-0 record into the 2012 regional—then lost to Brownstown Central 64-57. Thud.

Rigney: "It was kind of like, 'We're not as good as we think we are.'"

McIntosh: "That was one beneficial part about it, that letdown in the tournament, and not ever wanting to feel that again."

They returned the next season on a mission, began on an 11-0 unbeaten roll, then lost in January to Batesville, 15 miles down the road, in what had become a searing rivalry.

McIntosh: "My mom worked at Greensburg elementary schools and she told me she was so nervous at school (before Batesville games), she would feel sick. We made those games such a big deal. It was bragging rights."

Welage: "Looking back, we were getting a little complacent. That gave us our edge back."

And then some. The average winning margin the next 14 games was 25.8, including 77-65 over Batesville in the sectional. Nothing easy about the state championship game against Fort Wayne Concordia, though. The Pirates never led in regulation but won in overtime 73-70. McIntosh had 25 points; Sellers, 19; Welage, 16.

Meyer: "Coming back home that night, Lincoln Street through the middle of town was absolutely packed. Even on Interstate 74, they were parked on the side of the road."

It was Greensburg's first state title in any team sport, and with all five starters returning, the town was absolutely on fire. Could the players go anywhere without having someone come up and talk basketball?

Welage: "Not in Greensburg, I couldn't."

Holdsworth: "My house was the house we all went to. I'd say at least four nights a week, all those guys were over, playing pingpong, playing video games, eating, doing homework. Homework always seemed to be pushed back.

"We'd always eat in the same restaurant Saturday after practice (Storie's, across the street from the courthouse). It got to the point where we'd walk in and our food would be ready in five minutes because they knew we were coming."

Their final season together in 2013-2014 started with another long winning streak. More and more crowds, more and more attention. Pirate basketball was king of Greensburg.

McIntosh: "The town was fully bought in. I don't know if we ever really played an away game, they traveled so well."

Rigney: "It was something to do in Greensburg on the weekends—go to the basketball games. I did it as a kid, and I'll probably do it as an adult."

Welage: "We essentially didn't know what it was like to lose, almost."

Meyer: "One of the most amazing things for me looking back is, they never really got distracted. There was a constant buzz in the community, constant media and college coaches, but they kept their focus.

"I believe something about the magnitude of winning back-to-back; you just build a bond with one another. There's so many things probably I don't know that they took care of off the court."

With a 13-0 record in their final season and riding a 28-game winning streak, they hosted Madison in January—and lost 89-87 in overtime.

Sellers: "I wouldn't say we were arrogant, but we knew we were good and we knew we were going to beat most teams we would play. So that brought us back to Earth."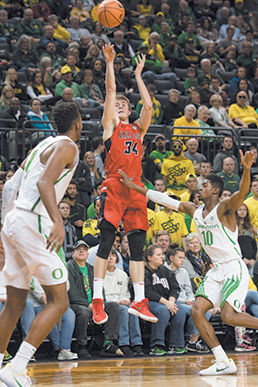 Sean Sellers is nearing Ball State's career record for 3-pointers. (Photo courtesy of Ball State University)
As with the season before, the post-defeat Pirates took no prisoners. Only one of the next 13 games would be won by under 10 points—against infernal Batesville by six in the sectional. Mrs. McIntosh must have been beside herself for that one.

That set up a semistate match with Guerin Catholic, another 3A power. The two teams had been eyeing each other from a distance all season.

Rigney: "We didn't like Guerin and Guerin didn't like us, even though we'd never played each other."

It was epic. Guerin jumped to a 15-point lead in the first half and was still up seven in the fourth. Meyer sensed the possibility of the end.

Meyer: "I was sitting on the sideline thinking, 'It's been a great run with these kids.'"

But they had not come this far to fall short. Holdsworth, normally not one of Greensburg's big scorers, kept his team afloat with four 3-pointers, and the Pirates won 74-67 after a late surge.

The championship game was a relative breeze over Bowman, with 27 points from Sellers, 23 from Rigney and 21 from Welage. The hardest part was knowing this was the end.

Rigney: "That was tough, but we capped it off the way we wanted."

And then it was time to head this-a-way and that-a-way, for all those college opportunities in one sport or another. Amazing.

Rigney: "In the grand scheme of things, yeah, it is pretty incredible. But we knew each other real well, we knew the work ethic of what we wanted to do—to go to the next level in some fashion. So to us, it wasn't that spectacular."

They have traveled their separate ways since, but remain drawn to the memories—and one another.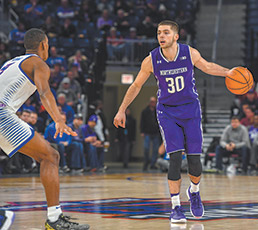 At Northwestern, Bryant McIntosh is the career leader in assists. (Photo courtesy of Stephen J. Carrera/Northwestern Athletics)
McIntosh: "I think we are still learning to appreciate everything we had as a group. College is a lot more difficult. I don't think any of us have had quite as successful a college career as high school as far as winning."

Welage: "One of the funnest times of my life."

Holdsworth: "It's a bond that will never be broken. We'll talk about it forever."

Meyer is still thriving at Greensburg; the Pirates have won six consecutive sectional titles and were 15-5 at last check.

"That raised the ante a little bit," he said of what those days did to expectations. Sellers and Welage have brothers on the team. Holdsworth's father is an assistant coach. Rigney's mother works in the athletic department. Storie's still serves great tenderloins. That golden age still echoes.

Sellers: "It's something you kind of take for granted in the moment, but as you look back, you appreciate it more. It was the definition of Hoosier Hysteria."•

__________

Lopresti is a lifelong resident of Richmond and a graduate of Ball State University. He was a columnist for USA Today and Gannett newspapers for 31 years; he covered 34 Final Fours, 30 Super Bowls, 32 World Series and 16 Olympics. His column appears weekly. He can be reached at mjl5853@aol.com.