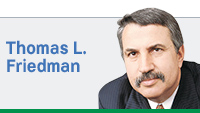 I've visited Kiev and Hanoi recently, and it's been extremely revealing. Ukraine is struggling with how to deal with a declining Russia that is looking for dignity in all the wrong places—like in Crimea—and Vietnam is struggling with how to deal with a rising China that is looking for oil in all the wrong places—like in Vietnam's territorial waters.
Meanwhile, America is trying to figure out how to buttress both Vietnam and Ukraine in their struggles without getting entangled in either dispute.
Both conflicts tell us a lot about the post-post-Cold War world. Neither is based on grand ideology or global aspiration. Both are about regional control, spurred by nationalism and resource competition.
Another similarity is that both Russia and China have chosen to operate behind cutouts.
Russia used "little green men" in Ukraine—camouflaged pro-Russia gunmen whose identities are unclear—and China deployed a flotilla of 70 civilian vessels and just a few navy ships to the South China Sea. They towed a giant deep-sea drilling rig 130 nautical miles off the coast of Vietnam—well within Vietnam's continental shelf but also in range of the disputed Paracel Islands that China claims are its own and therefore entitle Beijing to control a wide arc of surrounding waters.
When a Vietnamese navy patrol boat challenged a larger Chinese vessel, it rammed the Vietnamese ship, wounding six sailors. Then another Chinese ship used a giant water cannon to shoo away the Vietnamese boats. It's a huge story here in Hanoi.
In both cases, Russia and China used tactics firm enough to get their way but calibrated not to galvanize the international community to react much. China's timing, though, right after President Barack Obama's visit to the region—when he criticized China's expansive maritime claims—seemed to be a squirt gun in his face.
"It has been a real shock for the whole region," Ha Huy Thong, the vice chairman of the foreign affairs committee of the Vietnamese parliament told me. "They use civilian vessels, and then if you attack them they say, 'Why did you attack our civilians?'"
But Vietnam has limited options. China "is a rising power. The question is how can we deal with it?" Thong said. "It is not only a violation of our territory but of international law."
The only way to deter such regional powers when they bully one neighbor is with a coalition of all the neighbors. But such coalitions are hard to build when the threat is to just one country, is relatively low level and when the threatening country (China or Russia) controls so much trade to the rest of Asia in the case of China and so much gas to Ukraine and Europe in the case of Russia.
"We have a saying in Vietnamese," added Thong: "It's easy to break two chopsticks, but it's very hard to break a bundle of them." Until such a coalition gets built, Vietnam—in an irony of history—finds itself now looking to America for more protection from its historical predator, China.
Americans may think we've lost influence in the world, but, the truth is, many people out here want our "presence" more than ever. This is especially true of those living on the borders of Russia and China. We may not be so interested in the world, but a lot of the world is still interested in us—and saying: "Yankee come hither" more than "Yankee go home."•
__________
Friedman is a New York Times columnist. Send comments to ibjedit@ibj.com.
Please enable JavaScript to view this content.