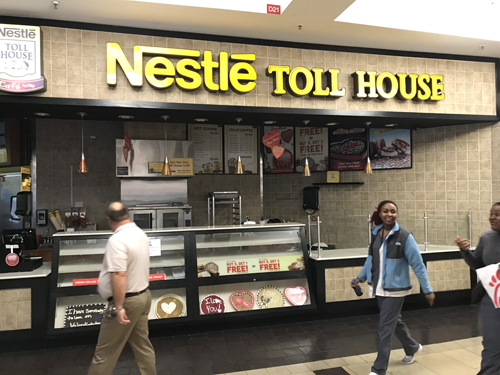 The Nestle Toll House Cafe cookie and dessert shop at Circle Centre has shut down in the wake of a lease dispute, marking the latest in a string of recent departures for the downtown Indianapolis shopping mall.
The Nestle Cafe, which sold cookies, ice cream, brownies, cookie cakes, coffee and other treats, had been located on the mall's second floor near the Artsgarden since September  2013.
On Thursday, a sign on an empty display case read, "This location is permanently closed. Sorry for the inconvenience—Management."
Circle Centre's website did not list the Nestle Cafe as one of its tenants as of Thursday, nor did the company's franchising website, nestlecafe.com, include the location on its store-finder page.
Landlord Circle Centre Mall LLC filed suit against franchisee Camden Services LLC on Dec. 20, alleging the tenant was in breach of its lease agreement for failure to pay rent on the 800-square-foot space. A default notice dated Nov. 15 said the tenant was delinquent in the sum of $10,474. A 10-year lease agreement attached to the suit said the tenant had been expected to pay almost $40,000 in rent in 2017.
The Nestle cafe concept was launched with a single U.S. store in 2000 and now includes about 150 locations, mostly in the United States and Middle East. Richardson, Texas-based Crest Foods Inc. licensed the brand from Nestle and began the cafe business.
Camden Services took over the lease in October 2015 when it signed a franchisee agreement with Crest Foods.
In an email to IBJ, a spokesman for Crest Foods said the company is "attempting to find a solution to open the cafe again. Actually, Crest Foods is actively expanding and looking for new franchisee operators."
Nestle Cafe's exit is the latest of several closures at Circle Centre in recent weeks.
Carson's department store, which occupies 145,000 square feet at the mall, is currently conducting a going-out-of-business sale.
Godiva Chocolatier confirmed this week that it would close its Circle Centre location on Feb. 25. Food court tenants Walking Waffle Co. and SoupShop closed earlier this month, and Andrews Jewelers shut down in late January.
Please enable JavaScript to view this content.