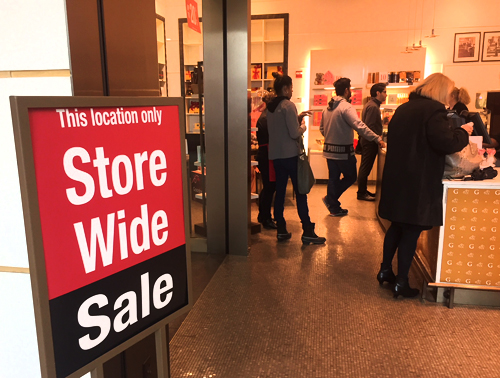 One of Circle Centre's original tenants is preparing to close, more than 22 years after entering the Indianapolis market with the downtown store.
Godiva Chocolatier plans to close its second-floor mall location Feb. 25, store employees said Wednesday. A storewide clearance sale is under way.
The upscale chocolate chain's only remaining store in Indiana is in the Fashion Mall at Keystone. An employee there said that store will remain open.
Godiva's departure will leave Circle Centre with fewer than 10 original tenants. Still remaining are Banana Republic, Bath & Body Works, Brookstone, Cinnabon, Eddie Bauer, Express, Finish Line and Victoria's Secret.
Original tenant Andrews Jewelers closed its second-floor store in late January.
Those are just the latest closures for the struggling downtown shopping center. Department store chain Carson's is conducting going-out-of-business sale in its 145,000-square-foot anchor store.
Food court tenants Walking Waffle Co. and SoupShop closed earlier this month. And at least a dozen other traditional retail tenants have left in the past few years, including Abercrombie & Fitch, The Loft, The Limited, and Gap and Gap Kids.
The Godiva name is all but ubiquitous these days. The chocolates, wrapped in their gold foil boxes and bags, can be found in numerous retail outlets throughout the country.
But, in September 1995, when Circle Centre had its grand opening, few people in central Indiana had heard of the high-end Belgium brand.
Circle Centre organizers touted Godiva's arrival on a list of mall tenants that were new to Indianapolis. At least 40 other retailers made their debut in central Indiana with a Circle Centre store. Godiva is the last retailer on that list to remain open.
Godiva, founded in Brussels in 1926, was acquired in 2007 by Yildiz Holding AS, one of Turkey's largest companies. The company did not respond to a message seeking comment about the Circle Centre closure
The chocolatier operates more than 600 retail shops internationally and sells its products at more than 10,000 retail outlets.
Campbell Soup Co. owned Godiva from 1967 until selling it to Yildiz for about $850 million. The first Godiva boutique in North America opened on New York City's Fifth Avenue in 1972.
Please enable JavaScript to view this content.