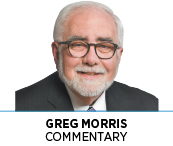 We're just a few weeks from turning our clocks forward an hour on March 11 as we observe daylight saving time here in our Eastern time zone. The recent unseasonably warm February temperatures give us a glimpse of weather ahead. And with the dangerously cold temperatures and wind chills we experienced in January, we deserved the break.
I always look forward to the upcoming months of increased daylight, which lasts past 9:30 p.m. on many evenings. It promotes many positive activities, as opposed to the winter months of going to work in the dark and coming home in the dark.
Every few years, I'm moved to write about the benefits of having most of Indiana in the Eastern time zone and observing daylight saving time. Why? Because there is a continued attempt in the Legislature to rewrite the law in favor of observing Central time throughout the state. That is the case again this year.
We have observed Eastern time in most of the state for decades. Today, 80 counties are on Eastern time and 12 are on Central time—six counties in northwestern Indiana and six in southwestern Indiana, to make things convenient with their surrounding metro areas. All of Indiana observes daylight saving time. This is the right call.
Resolutions now in the House and Senate urge the legislative council to assign to a study committee the topic of determining a time zone or zones for all 92 of Indiana's counties. State Rep. Jeffrey Thompson, R-Lizton, is the author of House Concurrent Resolution 2, co-authored by Rep. Doug Gutwein, R-Francesville, and Rep. Julie Olthoff, R-Crown Point. In the Senate, Concurrent Resolution 11 is authored by Sen. Greg Walker, R-Columbus. Respectfully, I suggest we pass on the study committee (again). I don't believe there's strong support for reverting to Central time in the Legislature or from the majority of Hoosiers.
These legislators are good people and well-meaning. Among other arguments, their strongest says "the excessive amount of morning darkness during the majority of the school year in Indiana's 80 Eastern time zone counties jeopardizes the safety of the 850,000 students living in these counties, and the sunlight schedule that is two hours out of sync with teens' biological clocks is recognized to jeopardize their educational performance and emotional well-being."
I'm not discounting the importance of keeping kids safe. So, to the northern Indiana college professor who emailed me after I wrote a similar column in 2015 to tell me that, because I support Eastern time, I have the blood of dead children on my hands, please tone down your rhetoric this time around. Feel free to disagree, but let's be civil. I believe concerns are overstated, but I respect other opinions. To read more about the Central Time Coalition's point of view, go to www.hoosiersforcentraltime.org.
I recognize the authority of individual counties to petition the federal government with respect to time-zone placement. But this should be a settled matter. In 2005, Indiana passed a law that all 92 counties would join 47 other states in observing daylight saving time. Requests were made to place Indiana in both the Central and Eastern time zones, based on their proximity to surrounding communities. And that is how we came to have 12 counties in the northwest and southwest on Central time.
The current system works for most Hoosiers, both from a business and personal-satisfaction standpoint. Let's stay the course.
Whatever side you fall on regarding the time-zone debate, I hope most of us can agree that we're glad to see winter coming to an end and we're looking forward to spring and summer, which is a great time to enjoy being outdoors in Indiana.•
__________
Morris is publisher of IBJ. To comment on this column, send email to gmorris@ibj.com.
Please enable JavaScript to view this content.