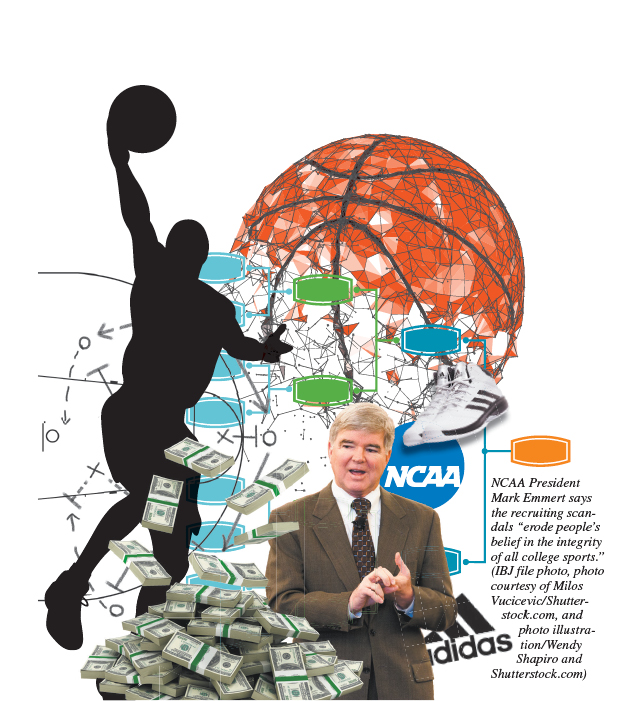 The recruiting scandal roiling men's college basketball is sure to cast a cloud over the NCAA tournament—a cash cow that brings in hundreds of millions of dollars annually to the Indianapolis-based not-for-profit.

March Madness has become so big that sports experts doubt a federal investigation alleging dozens of prominent players, coaches and schools broke NCAA rules will have much, if any, impact on sponsor support of the games.

"It has remarkable resilience on television," Ken Ungar, owner of local sports marketing firm Charge, said of the tournament. "It sucks a lot of the oxygen out of the spring sports because it's so dominant."
Ungar
The wildly popular men's basketball tournament—for many fans, filling out a bracket is a spring ritual—tips off on March 13 and concludes April 2 with the crowning of the champion in San Antonio.

For the NCAA, the tournament is by far its biggest moneymaker, helping to push revenue for the fiscal year that ended Aug. 31 over the $1 billion mark for the first time. That's thanks to a $10.8 billion television deal it signed in 2010 with CBS and Turner Broadcasting System, and an $8.8 billion extension that runs through 2032. Payments will hit $782 million this year, $804 million in 2019, and $827 million in 2020.

While the fallout from the FBI investigation could be "pretty dramatic," said David Ridpath, president of The Drake Group Inc., a watchdog organization focused on big-time college athletics, it's going to take more for sponsors to bail on the tournament.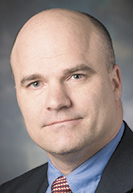 Ridpath
"It would have to be something really shocking, like an underground drug ring or pedophile ring," he said. Cheating "is not something that surprises anyone."

And it's more prevalent in college basketball than other sports, Ridpath said, because players are recruited not from high school, like football players, but from summer leagues and AAU teams, where outsiders have more access.

The latest scandal stems from the U.S. Justice Department's arrest in September of 10 people, including four assistant coaches from Arizona, Southern California, Auburn and Oklahoma State. Payments of up to $150,000, supplied by Adidas, were promised to at least three top high school recruits to attend two schools sponsored by the sneaker company, according to federal prosecutors.

And a February report by Yahoo Sports exposed documents that showed dozens of prominent players, coaches and schools might have broken NCAA rules.

An NCAA-backed commission, led by former Secretary of State Condoleezza Rice, is on track to give its recommendations to NCAA leadership when the Division I Board of Directors meets April 24-25.

'Meaningful change'

An NCAA official was not available to talk with IBJ, but NCAA President Mark Emmert told the Associated Press on March 2 that he expects the commission to reform college basketball by putting forth proposals to modernize NCAA rules on player-agent relationships, devise new ways to handle high-profile enforcement cases, and address the NBA's one-and-done rule. The rule requires players to spend a year in college before entering the draft, even if they had no intention of completing four years in school.

Emmert said he does not think the NCAA is in crisis and that the "vast majority of what's going on inside" the association is working "incredibly well."

"Yes, we've got these very serious issues, which require serious change, and they erode people's belief in the integrity of all college sports," he told AP.

"That's a very serious problem and that's got to be addressed, and we're doing that right now, and I'm really optimistic that, before basketball season next year, we're going to have really meaningful change that makes this circumstance, if not completely go away, dramatically better than the problems that exist today."

Emmert said he does not believe paying players is part of the solution.

"I haven't heard any universities say that they want to change amateurism to move into a model where student athletes are paid by universities, and universities are negotiating with agents for their relationships with a school," he said. "I would be surprised if the commission came forward with that kind of recommendation."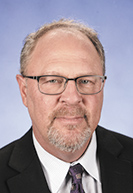 Kravitz
The FBI began investigating because the NCAA doesn't have subpoena power and can't compel anyone to speak to officials, said longtime Indianapolis sports columnist Bob Kravitz, who welcomes changes to the current system.

"The NCAA has the worst image in all of sports," he said. "They're toothless and they're misguided. They are trying to maintain a system of amateurism; it's a model that doesn't work."

Kravitz proposes the radical idea of giving an incoming freshman player a choice: to be a true college athlete and get his degree and scholarship or be a minor-league player for a university and not attend classes, unless he can pay his own way and get an agent.

"One-and-done players, they're not at Kentucky to get a degree in sociology," Kravitz said. "They're there to go to the NBA, and there's nothing wrong with that."

Financial firepower

Adding to the uncertainty for college basketball and the NCAA itself is a shifting legal landscape.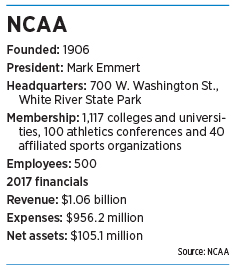 In October 2016, the U.S. Supreme Court declined to hear the NCAA's appeal of the Ed O'Bannon case, leaving in place lower-court rulings that found amateurism rules for big-time college basketball and football players violated federal antitrust law.

The high-court action left the NCAA vulnerable to more legal challenges that are wending their way through the courts.

The NCAA in the fiscal year that ended in August 2016 ran a $411 million deficit, driven by a decision to make a one-time, $200 million distribution to Division I schools and by a $209 million lawsuit settlement related to athletic scholarships.

It was the second consecutive annual deficit, and it sparked Standard & Poor's in February 2017 to downgrade the organization's debt from AA+ to a still-strong AA.

"We continue to believe that the NCAA faces significant risk from the potential effects of continuing litigation and in the longer term from reputational risk," S&P said in its report.

The NCAA returned to profitability in the latest fiscal year, posting a surplus of $105 million on $1.1 billion in revenue.

The fact that the NCAA has hardly any debt—just $21.5 million—and that its lucrative CBS/Turner contract runs through 2032 give the organization the financial firepower to weather all but the most calamitous of scandals, sports business experts say.

While college basketball must make changes, the drastic step of paying players isn't a viable solution, said Larry DeGaris, director of sports marketing at the University of Indianapolis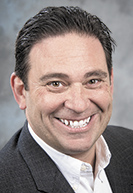 DeGaris
"College sports, as a for-profit business, and as it stands now, it's just not feasible," he said. "What we're seeing now is more pressure to treat players better."

He predicted that any fallout from the FBI investigation on the NCAA or on the basketball tournament will be fleeting.

"Fans are more willing to look past indiscretions," DeGaris said. "And it really doesn't have much to do with the on-the-court product."

Ungar, owner of the Charge sports marketing firm, agreed.

"I think the perceptions of many regarding college basketball are already baked into the brand of the NCAA," he said.

Even so, a recent NCAA poll found that nearly 80 percent of those surveyed believe "big universities put money ahead of their student-athletes" and that nearly 70 percent believe big schools are part of the problem, not the solution.

"That obviously is really concerning, in terms of the trust the American public has in the system," said Amy Perko, CEO of the Knight Commission on Intercollegiate Athletics.•