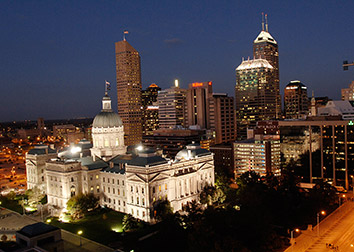 The Indiana General Assembly's annual session came to a chaotic close as lawmakers blew past their midnight deadline to adjourn with major bills still in play.
Republican House Speaker Brian Bosma and GOP Senate leader David Long blamed each other.
Among the bills that died were measures to boost school safety, allow for driverless cars, increase gun rights and make adjustments to the tax system.
Another major bill that died would have allowed Ball State University to take over Muncie's schools.
The chaotic end came after the House and Senate spent considerable time in closed door meetings and celebrating retiring lawmakers in recent days.
The Senate even adjourned in the afternoon on Tuesday, leaving considerable work for the following day.
The Legislature on Wednesday did approve bills involving immigration, school funding, sex education, workforce development programs and cannabis-derived CBD oil.
Lawmakers moved the bills on to Gov. Eric Holcomb, who can sign them into law or veto them. The bills also become laws if the governor chooses not to sign them.
Here's a rundown:
Dreamers
The Indiana Legislature has given final passage to a proposal that would lift a prohibition on young immigrants referred to as "Dreamers" from obtaining state professional licenses.
The House and Senate both voted overwhelmingly in favor of the measure. Holcomb has said he supports the measure.
Ed Clere, R-New Albany, championed the effort after he was contacted by a young woman in his district.
"Dreamers," who were brought to the United States illegally as children, are allowed to work and study under former President Barack Obama's program known as Deferred Action for Childhood Arrivals.
But recent changes adopted by Indiana's Professional Licensing Agency bars DACA recipients from obtaining licenses for dozens of occupations ranging from cosmetology to nursing.
The agency said it's following a 2011 state law.
Sex education
A bill that would allow parents to review sex education curriculum and "opt out" their children from such classes has been approved.
The Senate on Wednesday approved the measure on a 41-8 vote. The bill already passed the House.
It would require public schools to make two attempts to notify parents in advance of planned sex education classes.
Sen. Ron Alting, R-Lafayette, praised the bill's sponsor, Sen. Dennis Kruse, after he agreed to changes that were made to the bill in the House. Initially the Auburn Republican wanted to make it mandatory for parents across the state to "opt in" their children for sex education.
Indianapolis Democratic Sen. Greg Taylor opposed the bill, saying it's important for students to learn more about sex education, including sexual identity.
School funding
A stopgap bill that will cover an unexpected shortage in public school funding is on its way to the governor's desk.
The measure was given final passage Wednesday when the Senate voted 47-0 in favor of the measure, which the House has already approved.
The measure was a top priority this year for Republicans who dominate the Legislature. It will provide up to $25 million this year and $75 million next year to cover the funding shortfall.
The money would be transferred from reserve funds to the state general fund and then distributed to districts.
Republican leaders say the shortage in school funding is the result of an unexpected surge in public school enrollment.
That's because school funding follows the student in Indiana and lawmakers hadn't anticipated the enrollment jump when they crafted a two-year budget last year.
Workforce development
Lawmakers approved a package of bills aimed at improving job training (see full story here). Both the House and Senate signed off on the measures Wednesday.
The legislation will reorganize the board that oversees those programs. It also broadens eligibility requirements for some worker training funding.
Improving the state's job training and workforce development programs was supposed to be a major issue this session.
Holcomb even said it was his primary focus. But instead, lawmakers downsized their ambitions and hope to revisit the issue next year.
Democrats likened it to rearranging patio furniture.
CBD oil
A bill that would allow for the sale and use of cannabis-derived CBD oil across the state was overwhelmingly approved Wednesday by both the House and Senate in the closing hours of this year's legislative session (see full story here).
Cannabidiol, commonly referred to as CBD oil, can be derived from marijuana and hemp, but lacks the potency that gets people high.
A law passed last year allowed those with a severe form of epilepsy to use the substance.
Now lawmakers are going further, following an unexpected crackdown on CBD sales and widespread confusion over whether the product was actually legal.
Anyone could use the product if the bill is signed into law by Holcomb.
Please enable JavaScript to view this content.