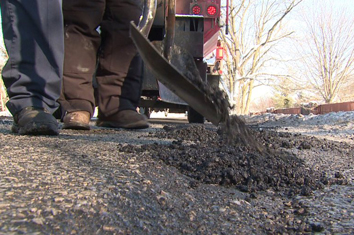 Members of the City-County Council are working to form a bipartisan panel of local and state officials who represent Marion County to figure out how Indianapolis can address what the members consider "decades of historic underfunding" for the county's public infrastructure.
Council President Vop Osili is expected to propose the legislative study commission at the April 30 council meeting, according to a Monday morning press release.
The proposal comes after the council last week unanimously passed a $14.5 million emergency measure to address local pothole repairs. It also follows some partisan bickering surrounding Indianapolis' roads.
The commission would be composed of state lawmakers and council members who will "review and analyze information gathered from infrastructure experts" and recommend policy changes and long-term funding options, the council said.
IBJ previously reported that state Sen. Jim Merritt, R-Indianapolis, who also runs the Marion County Republican Party, criticized the mayor and council for having "no real overall plan" for infrastructure. He said there is "no support" in the Republican caucus to establish a commuter tax, which has been brought up by some local officials, including Indianapolis Mayor Joe Hogsett.
Merritt's GOP group has also been referring to the mayor as "Pothole Joe Hogsett" in its communications.
Osili said in the release that "addressing our infrastructure needs is going to require innovative thinking and cooperation on all sides."
"The unanimous vote for emergency road funding demonstrates that councillors from both sides of the aisle are committed to tackling the infrastructure issue," hesaid.
The idea for the commission was that of Councilor Jared Evans, a Democrat who represents the city's west side.
"Our neighborhoods in Wayne and Decatur Townships shouldn't be forced to decide between getting a road repaved or getting a sidewalk, which makes streets safer for our children," Evans said. "The commission will study how we create an infrastructure plan that doesn't force our communities to make that kind of choice."
Councilor Scott Kreider, a Republican, said he has "been discussing the city's infrastructure needs with Councilor Evans for the past two years."
"I'm hopeful this commission will enable meaningful conversations to take place and provide state and local officials an opportunity to develop essential solutions," Kreider said.
Please enable JavaScript to view this content.