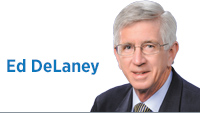 The General Assembly has left town; so, as the old saying goes: The public is safe.

We did little harm this year because we did so little. We whiffed on hate-crimes legislation, dropped the ball on the opioid crisis, and left the gerrymandering issue to fester. At least we adjourned on time.

Let's look at the highlights of the 2018 session, such as they were.

In summary, the supermajority ignored the public's concerns and pretended to do some big things with but little success.

Here are some details of how it went:

◗ The Indiana House is under the control of a one-party supermajority. That supermajority is quite simply out of gas. It is out of ideas. It achieved all its main goals years ago. Thus, we have lowered taxes on corporations, reduced the role of employee organizations, and removed important gun regulations. The supermajority now focuses on avoiding responsibility for what it has done. Thus, we will not look into the failings at the Department of Child Services or the impact of education "reforms." Instead, we will move forward with housekeeping measures and pretend to want to do more to lessen gun regulation.

◗ I get a lot of mail. But very little comes from the Indiana Manufacturers Association. They wrote this week to ask us to vote against one of the governor's workforce development bills originating in the Senate. I had long opposed the House version of the bill. But I had held out hope that the Senate bill would give us a vehicle to strengthen our workforce by drawing more people into high-paying jobs. Sadly, the Senate bill became as devoid of substance as the House version. It was reduced to asking the governor to lead yet another study of our myriad job training programs.

◗ I always thought redistricting reform was important. Without it, those who vote for my party will continue to be underrepresented. This year, I also fully understood what a lopsided majority means for the workings of the House. In theory, when you have a supermajority, a few members of your caucus can try their wings. They can vote with the minority on issues like hate crimes or support for public education. This isn't happening. It is because anyone who deviates can (and will) be beaten in a primary. As a result, we see herd behavior.

◗ The House has two ways to deal with failure. We can ignore our mistakes or, if that won't work, we can quietly bury the problem. So we refuse to evaluate education-reform bills that have failed our urban and small-town schools. But when we found that the Regional Cities grants were an expensive boondoggle, we buried the failure by deleting the program's authorization deep in a multi-page bill.

◗ I enjoyed the photo of our governor buying wine at a local market to celebrate Sunday alcohol sales. It summarizes the triviality of this year's legislative session. This was the high point! We could have celebrated that victory years ago.

◗ Supplement: The above was written before the House and Senate failed to complete their work in a timely fashion, leaving important educational and tax issues unresolved. Mismanagement prevailed.•
We did little harm this year because we did so little.
__________

DeLaney, an Indianapolis attorney, is a Democrat representing the 86th District in the Indiana House of Representatives. Send comments to ibjedit@ibj.com.