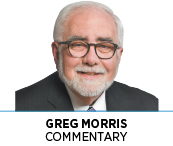 You read a lot about the city of Fishers in IBJ. Fishers is an amazing city and it's past time I recognize this community. Two of my adult sons and their families live in Fishers. They grew up in Carmel and they love living in Fishers in their adult lives.
Where else can you find Ikea, Topgolf and Portillo's all next to one another? But wait: There's more to come in the vicinity of Interstate 69 and East 116th Street—the soon-to-be-constructed Thompson Thrift project called The Yard. This $110 million effort will feature about 15 restaurants, including two St. Elmo-owned concepts, a Sun King tasting room, a dual-branded hotel, and hundreds of apartments.
And while my wife and I don't live within the city limits, we're just a few miles down the road and spend a fair amount of time (and money) in Fishers. I have an almost daily perspective of how Fishers differentiates itself from other cities.
Money Magazine awarded Fishers the No. 1 ranking in its 2017 Best Places to Live in America feature last October. Its observations: "A booming city with good schools, low cost of living, and an entrepreneurial buzz."
And while it takes a village to make something great, I am impressed with Mayor Scott Fadness—his leadership and vision for the city and as an individual who's concerned about the well-being of people. Scott was the deputy town manager from 2009-2011, then town manager from 2011-2014 before becoming Fishers' first mayor in December 2014. The growth and accomplishments during Mayor Fadness' tenure have been remarkable.
Mayor Fadness and John Wechsler, founder and CEO of Launch Fishers and the Indiana IoT Lab, were panelists at the IBJ Technology Power Breakfast (see page 28). Their combined insights into the need for all businesses to transition to a more technology-oriented and internet-enabled future showcased why Fishers has been so successful in attracting economic development.
I also attended the mayor's State of the City address. A sold-out crowd listened as Fadness spoke without the help of a prepared speech. His annual address focused on quality-of-life efforts underway in the midst of what is expected to be another strong year for economic development.
Among them: the previously announced Geist Waterfront Park and the Nickel Plate District Amphitheater project. The mayor also detailed new initiatives, including the Fishers Agri Park, a partnership between the city and Brandywine Creek Farms. The 32-acre park will feature areas for educational programming, livestock grazing and interactive experiences. Another initiative is Fishers First, a citywide collaboration with Hamilton Southeastern Schools and Conner Prairie. The goal is to create a world-class educational experience for Fishers students that would combine learning with innovation, collaboration and new experiences.
In 2010, Fishers had just under 77,000 people, but that is expected to be close to 90,000 by the end of this year, nearly the population of Carmel. There is a contingent in Fishers who don't approve of the rapid growth— the traffic and congestion, among other things. Fadness and his team are relenteless working to provide the infrastructure needed to keep up with all this growth.
I've barely scratched the surface of what's going on in Fishers. Expect to read more in IBJ But I recommend you take a short field trip to Fishers and see for yourself what everyone is talking about.•
__________
Morris is publisher of IBJ. To comment on this column, send email to [email protected]
Please enable JavaScript to view this content.