Lisa Sprunger, founder of the Indy-based frozen-soup company Urban Ladle, comes by her love for her product honestly.
She started her business in the kitchen of her north-side Indianapolis home, nurturing it into its present form—a line of seven frozen soups that's sold at various, mostly Indiana, retailers (including select Kroger locations) for about $10 a quart. The line is also served hot by a growing list of food-service vendors, including Eskenazi Health.
Even though soup production now takes place at an off-site facility, she still tests new recipes at home.
"Every day is a good soup day," said Sprunger, 53. "It's kind of my mantra."
It's also her company's legally trademarked slogan—a slogan she wouldn't mind seeing on the side of a building someday. Fortunately, she couldn't have picked a better time to pursue such a goal. Across the country, national grocers are pushing to differentiate themselves from competitors by, among other tactics, placing more locally made products on their shelves.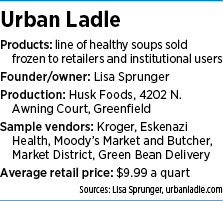 "We actually have observed this as a trend," said Bridget Goldschmidt, managing editor of Progressive Grocer, an industry trade publication. "Retailers really believe that these local products resonate with their customers."
That's created a unique opportunity for "artisanal" foodies like Sprunger.
She began her climb to souper stardom six or seven years ago, when she and her husband embarked on a healthy-living kick. Soup is generally healthful, so it became a staple at her table. Her homemade recipes proved such a hit that she started selling them out of her house.
"I would have 20 to 25 people a week come to my doorstep to pick up my food," she said.
Soon, she was rising at 4 a.m. and sweating over a pot-covered stove just to meet orders. In 2014, she moved her food-prep operation to rented space at Carmel Kitchen and started selling at farmers markets. At the end of that same year, she was approached by local food processor Husk Foods about taking over production.
"They started co-packing our soup in the winter of 2015," Sprunger said.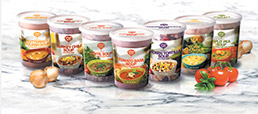 Urban Ladle produces about 500 quarts of soup a day, in seven varieties. The frozen retail line is sold in mostly Indiana retailers, including some Kroger locations. The line is also served hot by a growing list of food-service vendors. (Photo courtesy of Tod Martens Photography)
Things really took off when Urban Ladle joined Indiana Grown, a statewide initiative within the Indiana State Department of Agriculture.
"They're basically a marketing firm within the ISDA," Sprunger said. "Their goal is to help artisans like myself and local farmers expand into retail spaces and grow their businesses. They've been instrumental in the growth of many companies within the state."
Indiana Grown has reaped a bumper crop of interest from entrepreneurs in the agricultural sector—everyone from old-school pig and grain producers to makers of high-end, small-batch, value-added products such as soup, condiments and coffee. Indeed, about half of Indiana Grown's 1,000-plus members peddle these sorts of goods.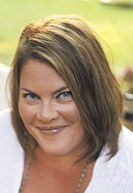 Tallman
"We have more roasted-coffee makers and barbecue sauce or condiment makers than any other category of membership," said Heather Tallman, Indiana Grown's membership development program manager.
What do outfits such as JC Cheesecakes, Tinker Coffee Co., and Roots Down Garlic & More (to name a few) get out of the arrangement? Pretty much the same thing Urban Ladle did. Indiana Grown guides its members to distributors and grocers, and helps merchants tell their products' stories to potential buyers.
"I'm like a door opener," Tallman said. "I get them the meeting. I help introduce them to that retail buyer."
The payoff, theoretically, is more Indiana-based businesses using Indiana-grown products.
"We're an economic development program for the ISDA," Tallman said. "Our hope is that we can provide economic development support for our members, in whatever form they need."
Winning space in retail outlets helped raise Urban Ladle's profile, but Sprunger thinks the food service industry—restaurants, hospitals and schools—might provide her quickest route to growth. That aspect of the business picked up considerably after a recent distribution deal with locally based Piazza Produce.
"They have 27 sales reps, and they're going around promoting my soup," Sprunger said. "We've seen really significant growth since November. It's getting into hospitals and school systems."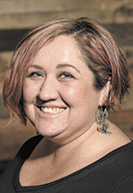 Edds
What a difference a decade makes. Erin Edds, serial artisanal food entrepreneur and president of Garden Party Botanical Hard Sodas, said things have changed greatly since she and her sister started their first business, Country Mouse City Mouse, back in 2008. Just 10 years ago, beginning a company by (in her case) selling homemade spreads and dressings at farmers markets simply wasn't done. Large distributors and grocers didn't know what to make of it.
"Now there's a real market for local products, and consumers want them," Edds said. "There's an entire business ecosystem built up around that."
Not that the ecosystem contains a well-worn, brightly lit path to success. It's more like a gauntlet.
"You have to be prepared to show up at 4 a.m. to set up in a cold building," Edds said. "And there's nothing like working at a farmers market, where the people can be quite honest and forthcoming with their opinions about your product."
Putting in the effort doesn't seem to be a problem for Sprunger. She's still very much a one-person operation, though she's seriously contemplating making her first hire. And though her soup, to the tune of about 500 quarts a day, is manufactured off-site, she still drags home leftovers from the various demos in which she participates.
"My husband is a good sport," Sprunger said. "Whenever I demo, I have leftovers, so naturally we eat a lot of soup at our house. And you know you love your product when you eat it constantly. Every time I try my soup I think, 'You know, this is really good.'"
At some point down the road, if the soup business really takes off, Sprunger could see herself selling out to a larger company. There's a lot of time and work between her and that goal (if she reaches it at all), but at least marketing trends are on her side.
Though the amount of shelf space taken up by hyper-local fare is still a negligible part of the grocery industry's annual $668.6 billion in sales (not to mention the 38,900 products the average mega-mart carries), laying hands on such goods is now top of mind for even the largest outfits.
"I definitely think they're getting better at it," Progressive Grocer's Goldschmidt said. "You've even seen companies as big as Wal-Mart try this. What could be bigger than that?"•
Please enable JavaScript to view this content.