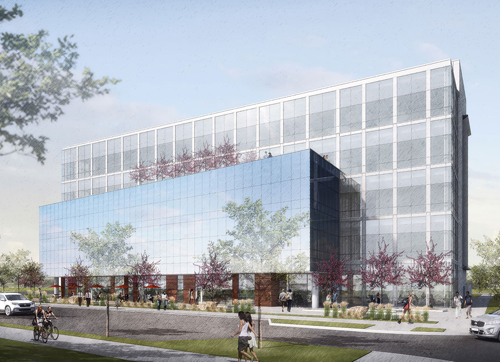 The 16 Tech innovation district, long touted as an up-and-coming hub for entrepreneurship and innovation, is finally about to get noisy with hammers and shovels, thanks to nearly $160 million in investments and donations.
The first development phase of the 60-acre district, located on the near west side, will kick off this fall, officials said Thursday morning.
"This is more than an investment in a district," Indianapolis Mayor Joe Hogsett told a gathering of about 100 people in a ceremony at the site. "This is an investment in progress."
The development will result in two new office and research buildings, a new apartment complex with 250 units, and the renovation of existing office and warehouse space.
The 16 Tech Community Corp., the not-for-profit operating entity, said the project will be built by Indianapolis-based developer Browning, which will invest $120 million in the project and own the first four buildings.
Officials also announced a $38 million grant from Lilly Endowment that will help fund the project. The three-year grant will help pay for the design and construction of a new bridge spanning Fall Creek, west of the Indiana Avenue bridge.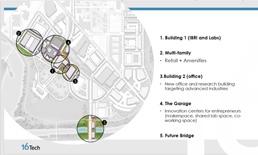 CLICK IMAGE FOR LARGER VIEW: The first development phase for 16 Tech is outlined above, including the bridge spanning Fall Creek. (Image courtesy 16 Tech)
The new bridge will connect 16 Tech with IUPUI, the Indiana University School of Medicine and hospital campuses along West 10th Street. It will accommodate pedestrian, bicycle and vehicular traffic. Design work on the bridge is expected to begin later this year.
The Lilly Endowment grant also will help fund a pedestrian and cycling path to connect 16 Tech with a future extension of the Indianapolis Cultural Trail, along with public art and a central green space on the district campus.
The grant includes a $2 million, dollar-for-dollar match challenge to raise more money from donors.
"With the generous support of the Lilly Endowment and the first developer agreement in place, 16 Tech is well on its way to becoming the city's largest talent attraction, retention and development asset," said Bob Coy, president and CEO of 16 Tech Community Corp., who began his job last summer.
The group's goal is to transform the aging business district, just north of the IU School of Medicine from a collection of older buildings into a densely developed site with apartments, restaurants and retail space.
Long-term plans call for more than 1 million square feet of incubator and start-up space for new companies, along with wet labs, meeting halls and space for related businesses, such as places where start-ups can develop prototypes of their inventions.
The 30-acre first phase, outlined Thursday, includes construction of approximately 240,000 square feet of new office and research space, an apartment complex and renovated warehouse and office space along Waterway Boulevard.
Renderings show a series of modern, rectangular buildings, flanked by open green spaces and tree-lined roads. The plan calls for:
— A multistory building, called the Advanced Research and Innovation Facility, that will house the district's anchor tenant, the Indiana Biosciences Research Institute, an independent research group designed to bridge the gap between research universities and industry in life sciences. The IBRI, founded in 2013, has a few dozen employees, but wants to hire more than 100 scientists within five years. Construction is expected to begin later this year.
The Indiana University School of Medicine will also lease an entire floor of the five-story building and fill it with several dozen researchers. "The possibility for collaboration is endless and we're really excited about it," said Bill Stephan, IU's vice president of engagement.
— An apartment complex with more than 250 units. Construction is expected to begin late this year or early next year.
— A new Class A building with office, research and retail space. No date was given for construction.
— Renovation of office and warehouse space once occupied by Citizens Energy Group. Construction is expected to begin late next year.
John Hirschman, Browning's president and CEO, said the buildings will feature lots of glass to give them a feel of transparency. He said his company is in advanced talks with another potential tenant for the Advanced Research and Innovation Facility that, if successful, could push the building from five stories to six.
The ambitious 16 Tech project has been on the drawing board for more than a decade, but recently has gained significant traction, with funding from the city for infrastructure improvements, and money from private foundations.
In 2015, the City-County Council approved $75 million in tax-increment financing bonds that would pay for infrastructure improvements, such as constructing roads and relocating water lines. The district spans from 10th Street to 16th Street, along Indiana Avenue.
The first phase of 16 Tech will create more than 2,600 jobs over 10 years, according to a 2015 report by Battelle Technology Partnership Practice.
Please enable JavaScript to view this content.