Henry Ford, Sam Walton and Sardar Biglari.
What do these three businessmen have in common? An unwavering devotion to low prices.
The first two executives used that strategy to build empires. The last, Biglari, used it to turn around Steak n Shake after a prolonged slump in sales, and he remains an apostle—for better or worse.
A franchisee who spoke to IBJ on condition of anonymity believes it's now for the worse.
The franchisee, who required confidentiality because the company prohibits speaking to the media, acknowledges that the discounting, including $4 meals, that Biglari rolled out when he took the helm of the Indianapolis-based chain a decade ago worked well for years. But he contends that, as restaurant costs have risen and customer counts declined, the adherence to holding the line on prices at all costs has hurt the customer experience.
The franchisee said fallout shows up in high employee turnover, grumpy workers, long wait times for food and restaurants that aren't as tidy as they should be—all factors, he believes, in the recent sharp downturn in the company's performance.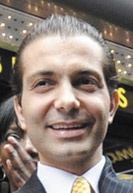 Biglari
Biglari—who runs Steak n Shake as part of his San Antonio-based holding company, Biglari Holdings Inc.—had racked up an incredible 29 straight quarters of same-store sales increases at company-owned locations before hitting a rough stretch in 2016 that continues today.
Steak n Shake now has reported two consecutive years of same-store sales drops, fueled in part by declines in customer traffic of 1.2 percent in 2016 and 4.4 percent in 2017. The numbers might not sound big, but they equate to losing 7 million customers over two years.
"I think it is more the dining experience that is driving traffic down," said the franchisee, who noted frequent posts from unhappy customers online, even on Steak n Shake's own Facebook page. "I don't think it is pricing. If you can eat for four bucks, I don't know how you can complain about that."
With customer traffic down, the chain, which had reported operating earnings of at least $25 million for seven consecutive years, earned a mere $431,000 in 2017. Contributing to the decline was a $16 million spike in food costs, some of it spurred by a push to enhance product quality, including serving thicker bacon and cheese slices.
Steak n Shake has 415 company-owned restaurants and 200 franchised outposts. The franchisee noted that margins are especially tight for franchisees because they pay royalties of about 5 percent of sales. The franchisee said he lost money last year.
But he's not likely to get a sympathetic ear from Biglari, 40. Biglari, who prides himself on unconventional business practices and does not speak with the press, said in his 2017 chairman's letter released last month that he is resolute about sticking with the company's low-price strategy.
"Despite recent lackluster results, our formula for success remains unchanged: Provide the highest quality burgers and shakes at the lowest possible profit per customer from an ever-increasing number of customers," he wrote in the letter.
"We are subscribing to Henry Ford's motto: 'To make money, make quantity.' In 2017, because we lost quantity—that is, customer traffic—we made less money. We lost customers because we failed to execute on delivering a superior value proposition vis-à-vis our competition."
Biglari continued: "Far too often, I have seen restaurant chains that experience declining customer traffic and earnings resort to raising menu prices as well as cutting the quality of products and service levels." Instead of making those mistakes, he wrote, "We labor unremittingly to achieve cost efficiencies that are largely passed on to customers in the form of higher quality products and lower selling prices."
Cheering on Biglari's approach is Richard Feinberg, a veteran professor of retail science at Purdue University.
He said retailers have three ways to distinguish themselves—with low prices, by being exceptionally entertaining, or by being distinctly different. In the burger segment, with so many restaurants selling substantially similar products, Steak n Shake is wise to zero in on price, he said.
"He's a smart operator. He's a smart guy," Feinberg said. "I like the CEOs who take chances and do things. You can't just sit still, and the strategy he is using has been extremely successful."
The franchisee who spoke with IBJ doesn't quarrel with Biglari's quest to provide value to the customer. He just believes the obsession with price gives short shrift to other factors customers consider in the value equation.
"It really seems almost ego-driven," the franchisee said. "I am going to be right. I am going to force it to be right."•
Please enable JavaScript to view this content.