Broad Ripple's leaders are working to confront a long-standing challenge in the heart of the village: what to do about a mostly vacant commercial building whose out-of-state owners have allowed the property to slide downhill for years.

Developers say the spot, which sits just east of College Avenue on the south side of Broad Ripple Avenue, is ripe for redevelopment—maybe a multi-story mixed-use development similar to others that have recently opened or are in the works elsewhere in the neighborhood.

But nothing can happen unless the current property owners agree either to sell or redevelop the site—and that's the sticking point. Broad Ripple officials say they've tried many times, with no success, to get the owners to take action.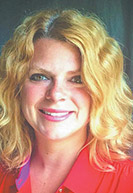 Fanning
"This specific landlord has been problematic for a very long time," said Colleen Fanning, an Indianapolis city-county councilor who represents Broad Ripple. "Trying to get that building moving in the right direction is a definite priority for the village."

Sonia Finkelstein, a former Indianapolis resident who now lives in Las Vegas, said she and her son, Theodore, own the property and intend to make changes soon.

The mother, who turns 77 this month, said she'd had some health problems recently and Theodore, 52, let the condition of the property slide because he was helping her.

Now, she said, they are prepared to act, although she offered no specifics.

"I know that we need to do something with the property," Finkelstein said. "In the next month, we're either going to sell it or we're going to develop it."

The building, which includes storefronts with the addresses 733 through 743 Broad Ripple Ave., is a weather-beaten retail center that sits on a third of an acre between College and Carrollton avenues. The building's facade is faded and scarred with outlines where former tenants' signs once hung. Longtime tenant Sasha's Jewelry & Watch Repair closed in 2016. By January 2017, Hardwicke's Pipe & Tobacco was gone. A shoe-repair shop is the building's sole remaining tenant.

"Location-wise, it's a great piece of property," said Todd Camesasca, a broker with Indianapolis-based Kosene and Kosene Commercial. "I think it's a question a lot of people have asked—why it sits like that."

Camesasca is working to find a tenant for the former Wild Beaver Saloon, which is immediately west of the Finkelstein property. Wild Beaver moved out about a year ago.
See detailed map of Broad Ripple Avenue.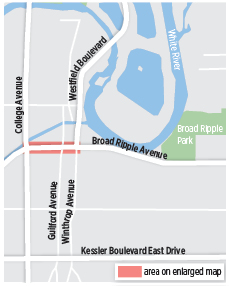 When asked if the condition of the Finkelstein building is hindering his efforts to find a tenant for the former saloon spot, Camesasca replied, "I'll try to diplomatically say it: It's not helping."

The property has been in the Finkelstein family for decades. Sonia Finkelstein said her late husband, Irwin, owned the property along with his father. When Irwin died in 1999, the property passed down to Theodore.

In 2009, property records show, Theodore transferred the property to Doheny Holdings LLC. Theodore Finkelstein and Sonia Finkelstein are listed as managers of the LLC, according to paperwork filed with the Indiana secretary of state.

Today, the vacant spaces sit across Broad Ripple Avenue from BMO Harris and Huntington banks. Louie's Wine Dive is a few doors to the west, with The Vogue around the corner. The Broad Ripple Tavern sits to the east.

High occupancy

The building doesn't have the only vacancies in Broad Ripple—even along the village's main strip—but they are the most prominent.

About a block east is a building—owned by the Broad Ripple Freemasons Lodge 643—where a Subway sandwich shop closed in January. Across the street, Condado Tacos is preparing to open in space last occupied by Village Tap Room and formerly Chumley's.

Fira Boutique in the 900 block of Broad Ripple Avenue closed earlier this year, but a menswear shop, Anthony Leigh, has already announced it will open in the spot in May. Down the block, sandwich shop Erbert and Gerbert's closed this year.

Still, real estate experts say the village is healthy, with high occupancy rates throughout.

Lee Hargitt, treasurer of the Freemasons Lodge 643, said his organization has gotten lots of interest from potential tenants since Subway left.

"Within days, we were getting phone calls and emails and inquiries," Hargitt said. The Freemasons will likely fill the space with another fast-food tenant, he said, though they are open to other types of tenants if the right deal comes along.

And village leaders project the retail situation will improve, with more than 500 apartments opening now or in the works. They hope adding 1,000 or so people to the immediate area will bolster daytime traffic in the neighborhood.

It's still too early to see a big bump from the new apartments—but there's every reason to expect one is coming, said Steve Delaney, a broker with CBRE.

"All of these new apartments are bringing all kinds of neighbors to the area that are looking for amenities," Delaney said.

He's the broker for a vacant space formerly occupied by Applebee's, at 1072 Broad Ripple Ave. in the Riverview Plaza just west of Broad Ripple High School.

Delaney said a deal is "imminent" to fill that space with a regional restaurant chain he declined to name.

Applebee's vacated the space in the fall of 2016. The size, at 4,800 square feet, is larger than many fast-casual restaurants need, Delaney said, so it took a while to find a new tenant.

The expected boom in commercial real estate is one reason Broad Ripple Village leaders are so eager to get the Finkelstein property cleaned up and occupied.

This week, Fanning became executive director at the Broad Ripple Village Association, a group that is a combination resident association, merchant association, community development corporation and tourism office.

In her new role, Fanning said, she intends to build on the association's efforts to make something happen with the property.

But there might be few legal options.

If a property deteriorates to the point that it's in violation of city codes, enforcement officers can issue citations to the owner to bring the property up to code.

That process hasn't applied to the Finkelstein property, Fanning said.

"They keep it in just good enough condition that they're not finable," she said. "We really don't have much of a legal mechanism to get them to act."

City records show an inspector visited the property in August 2014 to check for possible zoning violations, but issued no citations.

'Plenty of buyers'

Instead, peer pressure might be the neighborhood's best option. That's what Brooke Klejnot, the association's former executive director, tried repeatedly. She led the group for six years before leaving the position in January and said she and the group's board members had numerous conversations with the Finkelsteins—sometimes as frequently as multiple times per month—about the need to improve or redevelop their property.

"Overall, I wasn't able to make much progress in that area. The family expressed interest and then would backpedal," Klejnot said. "They were never unfriendly or unwilling to have a dialogue. They just seemed like they were unsure of the direction they were willing to take."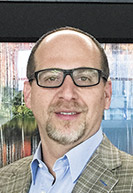 Perel
Broker Gary Perel, a principal and senior director of retail at Indianapolis-based ALO Property Group, described a similar circumstance in his dealings with the Finkelsteins several years ago.

Perel said he worked with them for about two years to find a buyer for their property, calling it "one of my stranger experiences—and I've had some strange ones."

The property attracted at least five solid offers, Perel said, but the Finkelsteins couldn't decide whether to sell and didn't follow through on any of the deals. "There's plenty of buyers—just, these guys are incapable of making decisions."

Though Perel said he can't recall the specific amounts, he believes the offers were for around $2 million. According to Marion County property records, the property's current assessed value is $319,500.

Sonia Finkelstein said she and her son are willing to sell the property "if we get the right price," though she declined to say what that might be.

Broad Ripple Village Association President Joshua John said he's had about 10 phone conversations with Sonia Finkelstein and believes she has unrealistic expectations about the value of the property.

"She thinks it's worth about double what any developer would be willing to pay her," John said. "It's economics, and she doesn't quite grasp that."

Finkelstein said she feels a sense of urgency to act now because of the recent loss of tenants.

"It's time to do something, because we've got an investment," she said. "Somehow, we'll manage to do the right thing."•