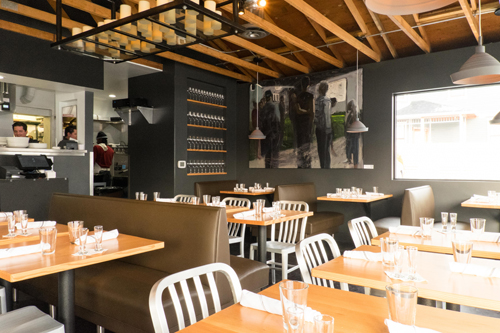 Tinker Street, the high-profile and upscale restaurant on East 16th Street that closed abruptly late last month, is reopening on Tuesday with a new partner in the ownership team.
The restaurant posted on its website Monday morning: "Tinker Street will officially be reopening for dinner tomorrow, April 10! More details to follow this afternoon!"
At about 4 p.m., a post on the restaurant's Facebook page from co-owner Thomas Main announced that chef Braedon Kellner, who had announced his resignation on March 30, was returning to the kitchen "as my new co-owner."
Main also made a vague reference to personnel issues that apparently led to the restaurant's sudden shutdown on March 30.
"Chef Braedon and I want to thank our amazing staff," Main said in the Facebook post. "I'm proud that they expressed their concerns, and put action behind their heartfelt words. There were issues related to personnel and workplace dynamics, that we cannot delve into, but what has emerged is a new partnership that the staff, Chef Braedon, and I feel very strongly about."
Peter George, Tinker Street's co-founder and Main's original co-owner, no longer is an owner of the restaurant, Main confirmed to IBJ via email.
Veteran restaurateurs Main and George opened the restaurant in 2014 at 404 E. 16th St. between New Jersey Street and Central Avenue. The establishment has become known for its locally-sourced, plant-based menu and large outdoor seating area.
Neither Main nor George would comment when contacted by IBJ on Monday morning about rumors that the restaurant would reopen on Tuesday, but shortly after that the restaurant's website was updated with the message about its pending reopening.
Kellner did not respond on Monday to a request for comment from IBJ.
Kellner's exit apparently came alongside a larger revolt among the restaurant's staff. George  confirmed to The Indianapolis Star last month that Tinker Street's front-of-the-house staff had walked out, but he declined to disclose the reason.
A former Tinker Street employee, Alexandria Tiano, told IBJ on March 30 that she was aware of tensions between the owners and the staff. She had worked as a server at the restaurant for five days before George fired her on March 23. Tiano said she had been late to work earlier in the week, and that George had told her the tardiness was the reason for her termination.
Tiano said some of her former co-workers told her on March 28 that the circumstances of her firing came up earlier in the day during a staff meeting the restaurant had called to discuss menu changes. Several employees either quit or announced their intent to walk out at that meeting, Tiano said.
Tiano also said that Main contacted her via text on the evening of March 28 to offer her the job back, but she did not accept the offer. She told IBJ she has since found a new server's job at another restaurant.
The restaurant announced on March 28 that it would be closed for the night, but would reopen the next day. On March 29, it again posted on social media that it would be closed for the night. On March 30 came notice that the restaurant would be closed "until further notice."
On Monday, Tinker Street posted an updated edition of its menu on its website. Its hours of operation will be 5 p.m. to 10 p.m. Tuesdays through Saturdays, the website says.
Please enable JavaScript to view this content.