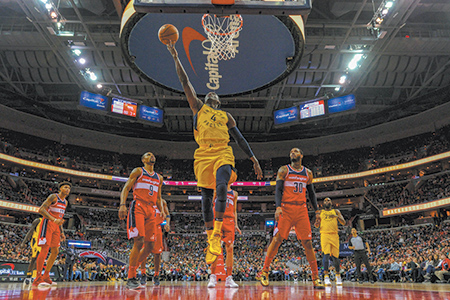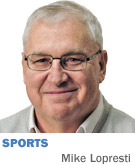 Got a minute to take a spin in the time machine?
It's about this Indiana Pacers season. The one that was supposed to careen straight downhill, but instead has led this weekend to the playoffs. Buckle in. Here we go …
It is mid-October 2017, and the Pacers are ready to open the season. Whoever these guys are. On the media guide are pictures of mostly unfamiliar faces, and a chosen theme to soothe the worried fan base: New year, new direction.
The thing is, most people assume that direction will be south.
These are some of the predictions in NBA national forecasts.
"Indiana is stuck being merely bad, and boring."
"A long rebuild awaits."
"A team that will continue to strive for mediocrity."
"Indiana will be bad, but playing in the East should help the Pacers land right around the 31-win mark."
Consensus final record: 32-50. Place in ESPN's first NBA power rankings: Way, way down at No. 26. Bad, boring, mediocre. Plenty of tickets available at the door.
Now, let's zip nearly six months forward …
It is April 10, and the Pacers are hurling post-game mini-basketballs and T-shirts to the adoring masses after the last game of the regular season in Bankers Life Fieldhouse. All is happy, all is well.
Indiana has finished 48-34 and No. 5 seed in the playoffs—its 23rd postseason appearance since 1990, more than any team except San Antonio. More than the nine other franchises that have won championships since then. For the record, the Pacers are also now No. 9 in the latest ESPN power rankings.
What has happened this season has been like someone jumping out of a birthday cake. Indiana has managed to put together a long WK list.
Who Knew?
The Pacers would sweep the Golden State Warriors. Nobody else in the league did that. Nobody else in the Eastern Conference had done it in four years.
Or they'd also sweep San Antonio, win twice in Boston and be the only team to beat Philadelphia in nearly a month.
Or they'd have one more victory going into the last day of the regular season than the Oklahoma City Thunder. As in, Paul George's Oklahoma City Thunder.
Who Knew?
Victor Oladipo would own the franchise, lock, stock and Boomer in his first season. Or he'd end up the NBA's most accomplished thief, with steals in 65 consecutive games. The old team record was 40, by the way. Or he'd be Eastern Conference player of the week three times. No Pacer had ever done that, including the one named Reggie Miller. Indiana was 48-27 with Oladipo, and 0-7 without him. Care to take a wild guess on the team MVP?
Who knew?
Darren Collison would be the NBA's surest 3-point shooter. And while he was at it, lead the league in assist-to-turnover ratio. Or that Bojan Bogdanovic would be such a vital contributor in the lineup, and Domantas Sabonis a rebounding terror off the bench. Lance Stephenson, of course, would be Lance Stephenson.
Who Knew?
The Pacers would go 21-20 on the road. That might not seem like much, but it is for a franchise that has had only six winning road records in 42 seasons in the NBA.
Or they'd be as relentless as ants building an anthill. Nine winning streaks of three games or more, the most in the NBA.
Or they'd become such masters of brinksmanship. They played 13 close games settled by three points or under and won 11 of them. Just off the best record in NBA history.
Or they'd do it by committee. Six or more Pacers scored in double figures in a game 25 times—second best in the NBA.
Or all this would happen with a redecorated roster, where the longest-tenured Pacer is Myles Turner—who just turned 22 years old.
Or they'd be harder to get rid of than the Indiana winter. They won five games after trailing by as many as 19 points, including a rally from 22 behind in the second half to beat Detroit—the Pacers' largest second-half comeback in 25 years.
Which is why Nate McMillan has a quick answer when asked what he is most proud of with the team he coached.
"Our effort. I'm proud of what we created in the sense of our culture and approach. I just like [that] we play the game hard, and we play the game the right way. We respect the game. As long as I get that from the team, I'm going to be happy with whatever the results are.
"They've given us everything they have every single night."
After the 82nd game, the Pacers sit in their locker room and take a look back at those harsh pre-season forecasts.
Collison for instance. "It was disrespectful. As an NBA player, you never want to feel doubted. You never want to feel like you're overlooked. You work too hard. They pretty much told a bunch of guys that were underrated they weren't going to be able to put a season like this together.
"That's the whole beauty of sports. Everybody has their opinions, what they think the team is going to do. At the end of the day, you go out there on the court and you have a chance to prove them wrong."
Or Stephenson. "Everybody has an ego in here. Everybody was hungry, and we just put that all together and won. Playing hard defense, having each other's back, helping each other out. No arguments. If we had a little altercation, it was squashed within five seconds.
"Getting back right, getting other teams to know I'm not a joke; that was my ego and I just put it with the team."
Oladipo is in a coat and tie, getting the night off to rest up for crunch time. But before the game, he takes the microphone and tells the fans what's next on the list.
"Let's go shock the world."
One more quick jump in the time machine.
It is this weekend (either in Cleveland, or Philadelphia, with that undecided at this writing). If Cleveland, the Pacers have the full attention of Stephenson's old pal, LeBron James. Indiana went 3-1 against the Cavs during the regular season, so they should know as well as anyone what troublemakers the Pacers turned out to be.
Can they keep doing it? Will Lance be Lance? Will he get in James' head, or blow in his ear? Something he said on April 10 suggests he is ready, when asked if Oladipo's shock-the-world call represents current Indiana mentality.
"Definitely. We're going to shock the world. You all are going to see; be ready. No matter who we play."
So much has happened since October. But McMillan doesn't need a time machine to understand what this moment means.
"We have to go out and prove ourselves again."•
__________
Lopresti is a lifelong resident of Richmond and a graduate of Ball State University. He was a columnist for USA Today and Gannett newspapers for 31 years; he covered 34 Final Fours, 30 Super Bowls, 32 World Series and 16 Olympics. His column appears weekly. He can be reached at [email protected]
Please enable JavaScript to view this content.