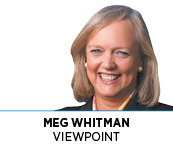 The World Economic Forum calculates that about 65 percent of kids in school today will enter careers that don't exist yet. Others predict that up to 80 percent of jobs in 2025—only seven years from now—don't exist.

Indianapolis is a paragon of this dynamic economic growth. The city is ranked by the Glassdoor job site as one of the best American cities for hiring opportunity, cost of living and job satisfaction. It ranks in the top 20 percent of 100 metropolitan areas in the country for advanced industries, with an output of $24.6 billion. It hosts one of the largest concentrations of life sciences companies, and more than 64 tech and tech-enabled firms call Indianapolis home, making it one of the fastest-growing tech hubs.

As Indy continues to build momentum toward a 21st century workforce, investing in P-12 education must be a top priority. These statistics serve as a pressing reminder that our American education system, largely unchanged for over a century, must be reinvented to effectively prepare our future workforce. We have an economic and moral imperative to put every student on a strong education path so all are able to fully participate in and shape our future economy.

As a city that significantly prioritizes collaboration and innovation in education, Indianapolis has deeply benefited from highly effective, diverse leaders who are committed to collectively driving progress for educational equity.

Teach For America has become a major source of this talent in Indianapolis, recruiting and developing innovative, top-talent leaders who understand how engaging diverse perspectives enables systemic change.

As national TFA board-chairwoman elect, I was recently in Indianapolis to help celebrate TFA's 10-year-anniversary in Indianapolis and the organization's decade-long impact. TFA has recruited diverse, top talent into teaching and supported program alumni who are advancing systemic change in education to bolster the long-term health of our economy.

Starting with an incoming cohort of 50 TFA corps members in 2008, today there are more than 670 TFA leaders living and working in Indianapolis. They include:

◗ nearly 20 percent of Center Township school principals;

◗ 300 teachers working in Center Township;

◗ one of the most racially diverse talent sources for Indianapolis schools and the city more broadly. Forty percent of new TFA corps members identify as people of color;

◗ four of the past five directors of the Mayor's Office of Education Innovation;

◗ at Indianapolis Public Schools, two former board members and current senior leaders, such as the Innovation and Talent Officers who oversee major change efforts at the district;

◗ a city-county councilor; and

◗ senior leaders at the Indiana State Board of Education, Indy Chamber of Commerce, and The Mind Trust, including Mind Trust's incoming CEO.

TFA has prioritized joining with dozens of organizations like IPS, Lilly Endowment, Richard M. Fairbanks Foundation, the Mayor's Office, the state board and department of education, The Mind Trust, and the Commission for Higher Education (among many others) in building a strong education system.

This is an exciting time for Indy, and an important time to expand upon our workforce strategy. When we invest in education—and in diverse, innovative leaders—we invest in our future workers and our potential to build a strong economic future.•

__________

Whitman, a former president and CEO of Hewlett-Packard Co., is CEO of NewTV and board chairwoman-elect of Teach For America.