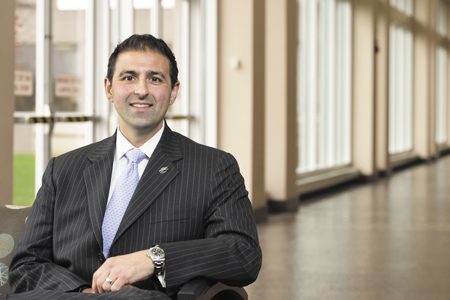 Jonathan Nalli has a message for his 16,000 employees at St. Vincent Health: Get ready for more transformation and disruption.
Already this year, the Indianapolis-based health system has cut 75 jobs, from nursing to tech workers. Last year, it cut more than 100 patient-access representatives, insurance specialists, medical records transcriptionists, and information management workers, and outsourced those jobs to a Chicago-based company.
Now it might be time for more. Nalli, 43, who took over as CEO of St. Vincent four years ago, isn't ruling out additional cuts in coming months.
"We are in a constant state of understanding, 'What do our delivery needs look like?,' which include our workforce," he said.
Nalli declined to say flat-out that significant cuts are coming. But he is sending plenty of signals that big changes are likely. In a 45-minute interview, he used the term "disrupt" or "disruption" six times, "reimagining health care" nine times and "transformation" four times.
When asked repeatedly about possible reductions in the workforce, he talked about the need to re-evaluate services and costs.
The last major cost-cutting at St. Vincent took place in 2013, a year before Nalli arrived, when the system chopped about 865 jobs in Indiana to reduce labor costs 5 percent.
Those cuts—and similar ones at most other health care systems around the country—came as providers were preparing for an austere future under the Affordable Care Act, which called for $155 billion in cuts to hospitals' Medicare payments over 10 years.
Now, the pressure is coming from St. Vincent's parent, St. Louis-based Ascension, which is embarking on a major restructuring. The health system, with 151 hospitals in 22 states, is shoring up its finances as it tries to pull itself from a downturn. For the six months ending December 2017, Ascension saw income from recurring operations fall 63 percent, to $162.9 million.
Last month, Ascension CEO Anthony Tersigni told the company's 165,000 employees that the Catholic system faces increasing competition, falling reimbursements from payers, rising pharmaceutical costs and huge changes in the way people are seeking care.
"We must create new, transformational care-delivery models for the future to extend the reach of our national health ministry," Tersigni said in the video, obtained by Modern Healthcare, a trade magazine.
That transformation, he said, would be from a hospital-oriented organization to one focused on outpatient care and telemedicine.
In the meantime, Ascension is aggressively cutting costs. In Michigan, where it has 14 hospitals, Ascension is laying off 500 employees, or about 2 percent of the workforce there, including nurses, medical therapists, technicians and unit clerks, with a goal of chopping $60 million in annual costs, according to Crain's Detroit Business.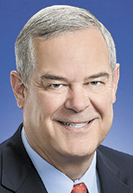 Abel
In Connecticut, Ascension last month said it plans to sell its St. Vincent's Medical Center in Bridgeport to Hartford Healthcare.
At the corporate level, Ascension has reduced administrative costs $400 million by realigning leadership and organizational structure and expects to cut another $61 million.
Turbulent market
What this means for St. Vincent, which runs 20 hospitals from Anderson to Evansville, remains unclear. Nalli said he does not expect Ascension to sell the Indiana operation or close any major facilities.
And some observers say the Indiana operation is one of the strongest performers in the Ascension system.
"It's been one of the top two or three every year for the past 15 or 20 years," said Ed Abel, director of health care practice at Indianapolis-based Blue & Co., an accounting and consulting firm. "There's no question that a lot of the money they've made in Indiana has gone to support other markets that aren't as financially viable."
St. Vincent is the second-largest health system in Indiana, behind only Indiana University Health, which has 15 hospitals and 33,000 employees.
But even strong hospital operations are continuing to face a turbulent market, with unrelenting pressure from payers to cut costs and from patients to provide more convenient care, said David Blish, director of health care consulting at Katz Sapper & Miller, an Indianapolis-based accounting and consulting firm.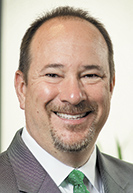 Blish
"Hospitals are looking for anything and everything to find stability, because it's tough," he said.
In the last few decades, hospitals have responded by shifting most care from inpatient to lower-cost, shorter-stay facilities, such as ambulatory surgical centers, even for such complicated procedures as hip replacements.
Now, Nalli wants to continue pushing St. Vincent to become less focused on big hospitals and more nimble with smaller operations.
In the past year, St. Vincent has opened three small hospitals in Hamilton and Hendricks counties. Each is just 16,000 square feet, or about the size of two large suburban houses. They feature compact floor plans, requiring little walking between the emergency room, X-ray and CT-scan suite, pharmacy, nurse's station and other operations.
The selling point to patients is fast service and convenience: 15 minutes or less to see a doctor.
"It's part of reimagining health care," Nalli said as he sat in the lobby of the newest location, on Allisonville Road in Castleton, which is set to open within weeks. "This concept for health care transformation has been incredibly accepted in the communities we have them."
But even if patients like them, some insurers are not sold. Anthem, the largest commercial health insurer in Indiana, said St. Vincent's small hospitals are not in its networks, a move that could raise the out-of-pocket cost for Anthem members.
Changes big and small
The neighborhood hospitals, if successful, could upset the traditional concept of a huge, full-service hospital with patient towers and thousands of employees.
And Nalli said he is willing to disrupt the status quo, even if it hurts some of St. Vincent's other facilities. Already, each small hospital has seven overnight beds, which St. Vincent transferred from its big hospitals in Indianapolis, Carmel and Evansville.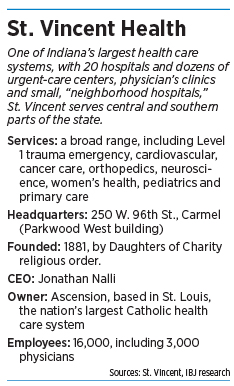 "We recognize for us to truly advance health care delivery, we needed to disrupt ourselves," Nalli said.
Given St. Vincent's neighborhood-hospital strategy, many health care observers are perplexed by its involvement in a health care development proposed for 30 acres at 96th Street and Spring Mill Road. Nalli this month confirmed St. Vincent holds options to acquire property at the intersection but said it has no definite plans.
A letter sent to nearby residents by local development firms Ambrose Property Group and Bremner Real Estate said a $1 billion hospital complex is planned for the site. Plans filed with the city of Carmel by Ambrose and Sexton Development LLC, which owns 15 acres at the intersection, show nine buildings and four parking garages.
Asked about the filing, Nalli said: "We didn't submit the drawings for that, so I can't comment on that. And billion-dollar projects are nowhere near our idea of, 'What does reimagining health care look like?'"
Carmel officials have said they want St. Vincent to disclose detailed plans before they consider rezoning the property. (See story on page 7.)
Nalli said St. Vincent remains committed to its flagship hospital on West 86th Street and is continuing to make investments there. That includes the renovation of the St. Vincent Women's Hospital, upgrades to operating rooms, a brand-new education and simulation center, a house for patient families, and an expansion of the pediatric intensive care unit at Peyton Manning Children's Hospital.
But the focus is on making changes big and small, from embracing telemedicine to rolling out online-appointment scheduling—all in a quest to win more business from patients, who are increasingly better informed and more selective.
"Where do we see the opportunity to change or alter or innovate and also disrupt ourselves?" Nalli asked. "We need to make sure we are staying ahead of what health care delivery looks like."•
Please enable JavaScript to view this content.