The Theatre on the Square in the Mass Ave Cultural District has a new name and operator.
The Central Indiana Community Foundation, which took over the struggling venue last year, announced Wednesday morning the new not-for-profit formed to replace  Theatre on the Square will be called The District Theatre. And the group has selected IndyFringe to manage the space for at least two years.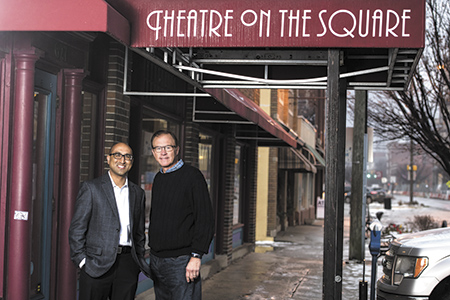 The venue, which has been on Mass Ave since 1993 and features a 120-seat theater and a 60-seat cabaret-style theater, closed its doors after the IndyFringe Festival in August.
CICF has assumed ownership of the space and has been working on reviving it for months.
IndyFringe, which is located in a historic church near the north end of Mass Ave, will maintain its existing space in addition to operating The District Theatre.
"IndyFringe has a proven track record of managing and programming theaters and is already an integral partner to the art and culture district," Brian Payne, president and CEO of CICF and board chair for The District Theatre, said in a prepared statement.
Problems at Theatre on the Square came to light in 2014 after longtime executive artistic director Ron Spencer retired. The organization had taken out a second mortgage on the property, the building had structural issues, and it experienced a revolving door of board members and presidents—20 members came and went, with six presidents in three years. The theater also owed payroll taxes to the IRS and money to the Dramatists Play Service, the licensing house for scripts.
The board for The District Theatre is still coming together, but two former Theatre on the Square members—Darshan Shah and Roger Schmelzer—have been appointed to it, along with a few other new members.
IndyFringe hopes to reopen the space as The District Theatre in July, but IndyFringe CEO Pauline Moffat said "there is still a lot of work to be done in the theaters behind the scenes."
The IndyFringe Festival is expected to be held there in August.
"Part of our mission is to support and assist independent artists," IndyFringe Board President Gary Reiter said in a prepared statement. "This new facility will further showcase Indianapolis performers, artists and designers, and provide them with a bridge to professional theatre."
Please enable JavaScript to view this content.