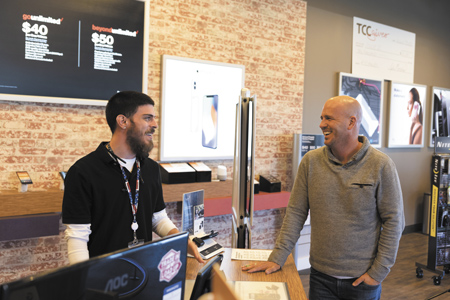 With 2,400 employees and $2 billion in revenue, Carmel-based Round Room LLC is most assuredly not a small company.
But don't tell that to CEO Scott Moorehead.
Though he's responsible for turning the retail cell phone operation into a national Verizon-dealing behemoth, he wants nothing to do with a mega-firm mentality.
In fact, thinking small, Moorehead said, is his biggest challenge. He's so fixed on the notion that, in 2013, he formed a company—Culture of Good—not only to keep Round Room and his TCC stores focused on it, but also to consult with other companies on the techniques he and his staff have worked to perfect.
Thinking small has nothing to do with inhibiting growth.
"I want to run the biggest damn small company on the planet," Moorehead said with a hearty laugh. "I want to run a company with a lack of bureaucracy and politics, where people have fun and have each other's backs."
The Culture of Good philosophy definitely has a charitable bent to it, but Moorehead described it as "quite balanced with intrinsic and extrinsic motivation." And he said it's been a serious spark for growth.
And grow Round Room has.
In the 10 years since the 40-year-old graduate of Purdue University's Krannert School of Business bought out his parents—who in 1990 founded the company as Moorehead Communications Inc.—Moorehead has more than quadrupled the number of employees and grown revenue 1,400 percent.
Round Room had annual revenue of $100 million in 2007, the last full year his parents, Steve and Phyllis Moorehead, owned the company.
By growing organically and through acquisition, Scott Moorehead pushed revenue to $837.2 million by 2014. In 2015, the decision was made to form Round Room, a holding company, that has allowed Moorehead to diversify its business ventures. After that, revenue jumped to $1.34 billion in 2016.
In October 2016, Round Room acquired Wireless Zone—which operates more than 360 Verizon Wireless stores mostly east of the Mississippi River—and revenue hit $2 billion in 2017.
Moorehead is projecting revenue of $2.3 billion this year. He declined to divulge profit.
The original nucleus of the company still operates as TCC, formerly known as The Cellular Connection, a firm that today operates 874 Verizon Wireless stores.
The larger company, with TCC and Wireless Zone, now has retail cell phone stores in 42 states—and that accounts for the vast majority of the company's revenue.
Round Room in 2016 acquired majority share of Redux, an Indianapolis firm that pioneered technology to dry out and restore damaged electronics. Redux, which leases equipment to retail outlets, operates in 50 states. With input from Moorehead, Redux has altered its business model to feature membership packages for cell phone owners and lease options for store owners. Those strategies have increased revenue.
Redux's co-founders, who still own a share in the company, said the firm is profitable. With its new direction, they expect significant revenue gains this year. Already, Redux has sold 1.2 million two-year memberships at $29.99 each.
Round Room also has invested in several startups in and around the country.
Rising in a stormy sea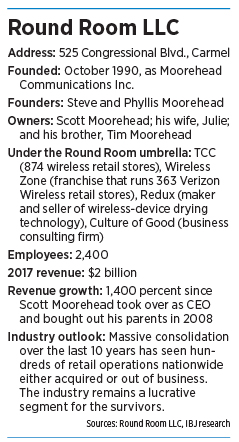 Round Room's growth has taken place at a time of fierce competition, rapid change and considerable tumult in the retail cell phone industry, industry sources said.
Retail locations in the not-too-distant past were on almost every street corner. There are still myriad stores, and wireless kiosks in malls, grocery stores, wholesale clubs and even check-cashing establishments. Add to that the countless websites selling cell phones, with free shipping, and it's a stiff battle for phone-store survival, let alone supremacy.
To no surprise, all that competition has triggered a wave of consolidation and closures.
Making the market tougher, many phone manufacturers have stopped subsidizing their cost, which has increased the cost for retail buyers and cut into stores' margins.
"Retailers are facing reduced margins on activations, and because of this, are being forced to rely on repeat customers to increase revenues," said Theresa VanderVeen, dealer enterprise client manager for Cricket Wireless. "Additionally, carriers continue to impose a variety of restrictions on their dealers."
VanderVeen said stores continue to struggle to differentiate themselves from the still-considerable competition.
"The risk to retailers is, how do you as a dealer make customers come to you and not the other guys, all while margins continue to shrink?" she said.
But facing challenging market conditions is where the Round Room boss excels, said John Baldoni, an Ann Arbor, Michigan-based executive coach who has known Moorehead since 2013.
"Scott sees opportunities where other people see dust," Baldoni said. "He's a person of great vision who has immersed himself in business trends with endless studying and networking."
Moorehead said as the industry evolved "over many consumer models over the years, our company has been one of the very few that has successfully changed with it," by remaining tightly focused.
"A million cell phone stores have come and gone. Now we're consolidating down to the ones who learned how to do it right," Moorehead said. "We survived by stressing consistency, knowing what we're good at and knowing what we're not good at."
Dialing up retention
Moorehead knew that, to succeed, he had to train and retain his employees better than his competitors.
"He knew customer service was going to be critical in retaining customers because a consumer can get a cell phone almost anywhere," Baldoni said.
As his company spread out, Moorehead became obsessed with communication with and among his far-flung employees and with creating a sense of being a part of something bigger than themselves and their individual stores.
"Keeping everyone on the same page is harder when you're bigger. Keeping great people at all levels of the company is harder when you're bigger," Moorehead said. "Creating consistent motivation is harder when you're bigger. When you're a small company, these things are all quite a bit more organic and second nature.
"We had that for a long time. … Now it's an everyday battle. But a fun one," he added.
That battle and a message he heard at his church led Moorehead to found Culture of Good and co-author a book, "Build a Culture of Good: Unleash Results by Letting Your Employees Bring Their Soul to Work." Moorehead not only tabbed his pastor, Ryan McCarty, to write the book with him, he hired McCarty to help run the Culture of Good.
"I heard a message at church that said what you do and why you are doing it should equal each other," Moorehead said. "That struck me."
Moorehead acknowledges the idea of so tightly marrying business and employees' personal causes can at first seem strange.
"It's all about figuring out how a for-profit company can live with the heart of a non-profit by allowing employees to bring their souls to work," he said. "The team around me at first thought I was a little crazy."
A seat at the table
Moorehead's theories on running Round Room go all the way back to the name of his company—which he joined in 1998 (working in one of the stores) while finishing his degree at Purdue.
He moved to the corporate office in 2001. And in 2005, he spearheaded the effort to change the company's moniker and remove the family name. That wasn't an easy decision; the company was an offshoot of Moorehead Electric, which his grandfather founded in 1939. The electrical contracting division of the company was sold to an employee in the early 1990s.
Round Room became the parent company, and TCC went from a doing-business-as name to an LLC.
So why Round Room? Moorehead said it's a nod to the company's inclusive nature.
"Everybody had a seat at the table, and if you had a voice, we were willing to listen," he said.
Preaching listening and inclusiveness isn't just lip service to Round Room employees.
"Scott is very intelligent. That's obvious from the minute you meet him," said Reuben Zielinski, co-founder and part-owner of Redux. "But he never pretends to know all the answers. He gives latitude to his people to make decisions. He's realized that, by doing that, it really propels his company forward in a positive direction."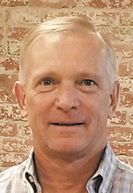 Zielinski
The ideas Moorehead allows his employees to bring to the table aren't restricted to business. He also encourages them to offer ideas for company charitable projects and for the workplace.
"I know what our employees come to work for—a paycheck. I have to give them a better why," Moorehead said. "It had to be bigger than selling phones, chargers and protectors. I needed a gel to hold people together."
As a result, Round Room has given away hundreds of backpacks to needy schoolchildren and countless cell phones to victims of domestic violence, raised more than $1 million for Riley Hospital for Children, and even dressed more than 1,000 employees as superheroes to visit Riley "to give the hospital a huge hug," Moorehead said.
"All of this … helps us stay connected to the communities we serve and each other," Moorehead said. "We won't give in to losing the feeling of being a small company. That has helped us attract the right teammates, and keep the right teammates, keep our heads down and crush these massive goals."•
Please enable JavaScript to view this content.