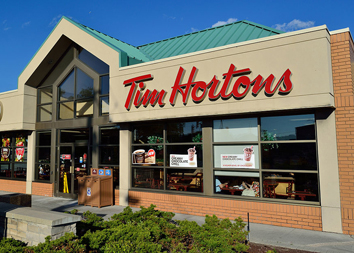 The Indianapolis area's only Tim Hortons restaurant plans to close on Wednesday, less than four months after opening—putting the chain's future plans for the market in serious doubt.
Franchisee Luke Brands confirmed Tuesday that the Tim Hortons at 8301 Rockville Road, near Avon, would close.
In January, Hobart-based Luke Brands announced its plans to open a total of five Tim Hortons in the Indianapolis area: the Rockville Road store, plus additional sites at 9910 Pendleton Pike on the city's east side; 4954 Lafayette Road on the northwest side; 1805 E. Main St. in Plainfield; and 3300 E. State Road 32 in Westfield.
Canada-based Tim Hortons, which sells coffee, doughnuts and other baked goods, sandwiches and other items, is owned by Oakville, Ontario-based Restaurant Brands International. Restaurant Brands International also owns Burger King and Popeyes Louisiana Kitchen.
But the local plans have changed, Luke Brands said.
"Unfortunately, at this time we have decided to close the Tim Hortons at Rockville Road," Luke Brands Vice President Tom Collins Jr. said in a written statement.  "Our last day of operation will be Wednesday, May 16, 2018. The future development of Tim Hortons in the Indianapolis market will be determined by parent company Restaurant Brands International."
Collins did not immediately respond to a phone message and e-mail seeking more details about the closure.
Tim Hortons did not respond to queries sent via e-mail late Monday afternoon and late Tuesday morning. A receptionist at the company's corporate office said Tim Hortons responds to media inquiries by e-mail only.
As of March 31, Restaurant Brands International had 4,774 Tim Hortons stores worldwide, in addition to 16,859 Burger King locations and 2,926 Popeye's locations.
Comparable store sales at Tim Hortons declined 0.3 percent in the first quarter compared with the same period of 2017. In comparison, Burger King saw a 3.8 percent comparable store sales increase and Popeye's saw a 3.2 percent increase.
Comparable store sales, considered an important retail performance metric, measure sales at store locations that have been open for at least a year.
Luke Brands is a third-generation family-owned company that operates a collection of franchises in industries including fuel distribution, convenience stores, car washes, liquor stores, farm markets and quick-service restaurants.
"Moving forward, Luke Brands will continue to develop, grow and operate exciting brands in the Indianapolis market," Collins said.
Please enable JavaScript to view this content.