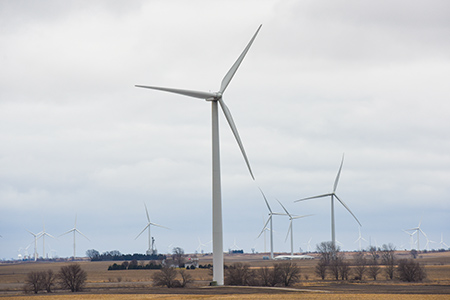 An Indianapolis-based company that designs and builds wind farms and other energy projects has dismissed its outside auditor after the auditor pointed out material weaknesses in the company's financial reporting.
Infrastructure and Energy Alternatives Inc., which went public earlier this year, said in a recent securities filing that it had dismissed Crowe Horwath LLP and hired a new auditor, Deloitte & Touche LLC.
IEA did not say why it changed auditors but said there were no disagreements and no reportable events between the two parties, except that Crowe had advised it of certain material weaknesses, including the need to develop certain financial controls, such as hiring accounting personnel "with an appropriate level of accounting knowledge, experience and training commensurate with complex accounting issues and financial reporting requirements."
Crowe also pointed out that IEA had weaknesses on procedures for preparing, documenting and reviewing areas of significant judgments and accounting estimates, revenue recognition and accruals, along with "timely and systematic review" by management of journal entries.
IEA, which is based at 2647 Waterfront Parkway East Drive on the west side, said it has begun implementing a remediation plan, which includes hiring a chief accounting officer and director of reporting.
"There is no assurance that the measures IEA has taken to date, or any measures the combined company may take in the future, will be sufficient to remediate the material weaknesses," IEA said in the April 25 filing.
The company attached a note from Crowe to its filing, which said the firm had read IEA's statement, "except that we are not in a position to agree or disagree with the stated reason for changing principal accountants."
IEA has built itself into one of the nation's largest providers of infrastructure services for renewable energy. It has completed more than 190 wind and solar projects in 35 states, including more than 14 gigawatts of wind-energy generating capacity—enough to power 10 million homes.
In 2016, IEA rang up revenue of $602.6 million. The company, founded in 1947 in the Indiana town of Clinton as White Trucking, was bought by private equity firm Oaktree Capital Management in 2011 and went public this spring.
IEA stock was up 9 cents Wednesday, to $9.69 per share, up from $8.50 at the time of its initial public offering.
Please enable JavaScript to view this content.