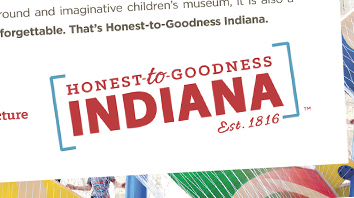 A new marketing firm could play a big role in how Indiana defines itself to tourists and other travelers.
The Indiana Office of Tourism Development says it's searching for a firm to lead the state's tourism marketing efforts by developing seasonal and annual marketing strategies and "creative campaigns" to attract more visitors to Indiana destinations and increase traveler spending.
The state has issued a request for proposals to contract with an outside agency, saying that its ambition is for the state to become "a leading regional destination" with annual growth that exceeds that of adjacent states.
State statute requires the tourism department to put out an RFP every two years. The department typically receives about a half-dozen responses, from both in-state and out-of-state firms, said Mark Newman, IOTD's executive director.
The state's tourism office spends about $2 million annually on marketing services, according to the RFP.
Indianapolis-based Williams-Randall is the tourism department's current advertising agency of record. Williams-Randall designed the current "Honest to Goodness Indiana" campaign that was panned by some as too folksy when it was unveiled in 2014. The state has stuck with the campaign and retained the "Honest to Goodness" branding on its tourism material.
It wasn't immediately clear whether IOTD was interested in moving away from "Honest to Goodness" or intended to stay with the theme. Williams-Randall would be able to apply for the contract again. The state's previous campaign, "Restart Your Engines," was in use from 2006 to 2014.
Tourism in Indiana in 2016 employed 242,000 workers, generated $12.2 billion in annual spending and attracted 79 million visitors, according to a state tourism report.
Issued in December, the report said 2016 marked the sixth year in a row of spending gains by visitors to Indiana destinations.
The winning marketing firm is expected to develop campaigns involving print, television and radio advertising, as well as billboards and email marketing and social media efforts.
Responses to the RFP are due by 3 p.m. June 29.
Please enable JavaScript to view this content.