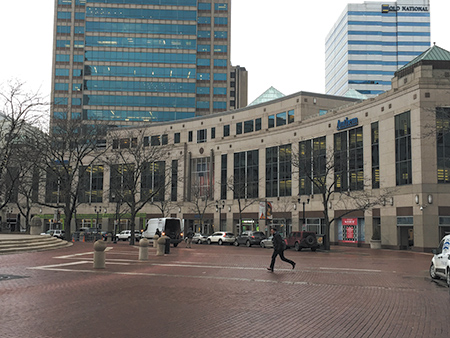 Health insurer Anthem Inc. did not receive incentives as part of its decision this week to keep its corporate headquarters in Indianapolis—but that could change.
City and state officials said Tuesday they have been working with Anthem for some time but did not offer the company tax breaks in exchange for its decision to spend $20 million to renovate its huge campus on Virginia Avenue, just south of downtown.
The company said once the renovations are complete in the fourth quarter of this year, the campus will act as its corporate headquarters and house more than 2,600 employees. That's in addition to more than 2,300 employees who work in other locations around the state or at home.
The decision follows months of uncertainty, after Anthem said in January it would leave its longtime corporate home on Monument Circle when its lease expires at the end of the year. The company had declined to say for months whether it would keep its headquarters in Indianapolis, its home for almost 75 years.
At the same time, the company is building a 21-story, $150 million office tower in Atlanta, which it has said would house much of its technology operations. That project contributed to speculation that company might pull up stakes in Indiana.
Mayor Joe Hogsett said his office has been working closely with Anthem over the past year to keep the company's headquarters in Indianapolis.
"We are committed to supporting Anthem's growth in Indianapolis and will remain engaged in identifying ways of further expanding their local workforce," he said in a statement.
His spokeswoman, Taylor Schaffer, said the city offered no incentives for Anthem to stay here, although "we will be working with Anthem to explore future opportunities for the growth of their Indianapolis presence."
Vop Osili, president of the City-County Council, hailed Anthem's decision to keep its headquarters here.
"Just as important in attracting new national headquarters is retaining great companies and corporate partners, such as Anthem," he said.
The Indiana Economic Development Corp., a public-private body that works to encourage companies to locate, expand and remain in the state, said it would consider future tax incentives to Anthem from the Hoosier Business Investment tax credit program, based on the company's potential qualified investment at the new headquarters location.
But the state has not agreed to incentives at this point.
Anthem's announcement on Tuesday morning made it clear the company is committed to keeping its corporate headquarters here, in a renovated campus known as the Ben Lytle Center on Virginia Avenue, named after a previous CEO who helped build Anthem into a national player through a series of acquisitions in the 1990s. That building has been home for years to Anthem's Indiana Blue Cross Blue Shield operations.
The announcement did not spell out the scope of the renovations or say whether it would include any new buildings on the Virginia Avenue campus.
Still, several Indianapolis benefits companies, which sell employer-sponsored health packages from Anthem and other insurers, lauded the company's decision.
"It's great for the city, great for downtown," said Steve Appel, vice president at insurance brokerage Gregory and Appel. "They're up there with Eli Lilly and Rolls-Royce and Roche, big companies that are here. It's great they're staying."
Stan Jackson, vice president at Apex Benefits in Indianapolis, said he was glad to hear the news.
"It's great to have a Fortune 500 company headquartered in Indy," he said. "As they are such a dominant part of the health insurance landscape both locally and nationally having a company driving change in the Healthcare delivery system from Indianapolis is good for all stakeholders."
Please enable JavaScript to view this content.