Republican U.S. Senate candidate Mike Braun has praised President Donald Trump for his policy beliefs and efforts. And now Braun is following in Trump's footsteps when it comes to financing his campaign.
Braun, owner of Jasper-based Meyer Logistics and Meyer Distributing, almost entirely self-funded his May 8 primary win over U.S. Reps. Luke Messer and Todd Rokita, throwing more than $5.4 million into the race—the third most of any candidate for federal office this primary season.
He said he wanted to show voters he wouldn't be beholden to anyone, then he used that decision to differentiate himself from Rokita, Messer and future Democratic opponent Sen. Joe Donnelly.
"I'm not being supported by PACs, lobbyists and political insiders," Braun told IBJ before the primary election. "That's who's supporting my opponents and Joe Donnelly."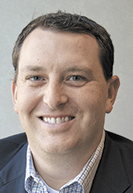 Savage
But like post-primary Trump, Braun is now schmoozing at fundraisers and other events with the very types of contributors he once criticized.
Political strategists say it's not surprising: The candidates and outside groups could spend more than $100 million on the Senate race, which makes self-funding extremely difficult.
Braun had only $1.4 million cash on hand, as of April 18, while Donnelly had $6.2 million.
"It's no surprise that Senate races are expensive, and the money matters," said Republican political consultant Cam Savage. "There's no way to self-fund a Senate race from start to finish because they're so expensive. … There are very few people who can do that."
Political strategists say the benefit to self-financing a campaign is knowing you can pull from your own wallet when needed to pay for travel, commercials or staff. Braun's primary opponents have argued that he won the race thanks to the millions he pumped into it, which allowed him to boost his name ID quickly.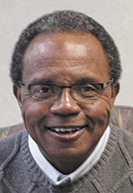 Winston
"You establish yourself as the pace car in the campaign, because everybody else has to catch up to you," said Robin Winston, former chairman of the Indiana Democratic Party and president of Winston/Terrell Group, an Indianapolis-based government affairs, public outreach and community relations firm.
But a drawback to self-financing is that it could lead to fewer grass-roots supporters, and those individuals are often the ones who vote on Election Day.
"The reality is, you do need $5 contributions, because that adds up," Savage said. "I can't remember ever receiving a $5 donation from someone who then forgot to vote."
So experts say it makes sense for Braun to transition now because it gives him time to solicit donations and unite Republicans behind his campaign.
Winston said candidates rarely self-finance beyond the primary—"because, at that point, you're the party nominee."
During the primary campaign, Braun didn't rule out the possibility of changing his strategy in the general-election season, but he repeated that he wouldn't be beholden to anyone.
"I'm sure there will be people wanting to help me then," Braun told IBJ before the primary. "If I do get help, it will be very clear: no strings attached."
Braun's campaign did not respond to multiple requests for comment from IBJ for this story.
'Republicans want to win'
The Indiana Democratic Party has already criticized Braun for the strategy flip. "Hoosiers need to know little more than that one of Rep. Braun's first moves as the GOP nominee is to head to the swamp to take special-interest money," said Michael Feldman, spokesman for the Indiana Democratic Party, in a recent statement.
"If Rep. Braun were truly interested in showing Hoosiers that he was only accountable to them, he'd make clear which special interests were lining up to bankroll his campaign. Otherwise, he's a hypocrite who has more in common with the wealthy D.C. donors and swamp denizens than working Hoosier families."
But Savage said he's not worried about Braun losing support as a result of this fundraising decision.
"I think Republicans want to win in November," he said. "So my guess is that won't be an issue."
Top Republicans didn't waste any time throwing their support behind Braun.
Trump and Vice President Mike Pence visited Elkhart two days after Braun won the primary to praise the candidate and unite the party.
And a week after the election, Braun traveled to Washington, D.C., and attended a lunch with Senate GOP leaders and Trump.
A couple of days after that, on May 18, Pence returned to Indiana and hosted a fundraiser in Indianapolis for Braun and Republican U.S. Senate candidates from Ohio and Missouri.
Tickets to that event, which U.S. Sen. Todd Young also attended, were $2,700 per couple, but the top package offered cost $25,000 per person.
Savage said he's been impressed with how quickly the Republican establishment has rallied around Braun. The GOP primary had been described by some observers as one of the nastiest in the country, thanks to all the attack ads.
"Really, I don't remember a time when that's happened so quickly or so successfully," Savage said. "It's almost been seamless."
The fundraisers have kept going—at least three more have been held in D.C. to support Braun.
Bob Grand, a top GOP fundraiser, said Braun did a good job of quickly reaching out to Republican leaders who might not have supported him in the primary.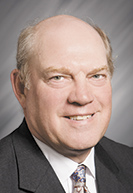 Grand
"He's made a tremendous effort in a short period of time," Grand said. "And from what I can tell, that's going very well."
Anything can help
The email solicitations have also picked up.
Since May 1, Braun's campaign has sent emails seeking donations nearly every day. It's a noticeable increase from April, when only five emails were sent the entire month that explicitly asked for a contribution.
Before the primary, Braun's campaign regularly sent emails to supporters that promoted a new endorsement or talked about the latest news from the campaign trail but did not actually ask for money.
But since May 8, every email from the campaign has included a solicitation.
Even the email sent the night of May 8, after the primary race had been called in Braun's favor, asked for a $5 donation.
"Chip in $5 today to put career politicians on notice," the email read.
The emails are also trying to remind supporters that primary donations are in the past. Donations must be designated for either the primary or the general election, and there are limits on how much an individual or political action committee can donate during each cycle.
An email sent to supporters on May 14 emphasized that Braun is "running a brand-new election."
"This means that contribution limits are starting over from scratch," the email read. "So, even if you made the maximum campaign contribution to our Primary Election, you can match your previous donation again today for the General Election."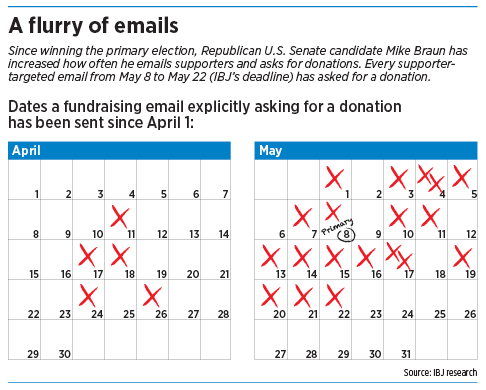 That doesn't actually apply to many Braun supporters, though. Only 84 individuals had hit the maximum primary donation amount of $2,700, as of April 18, the date of the latest campaign finance report.
It works for some
Trump also switched from mostly self-funding the primary to fundraising for the general election. At his campaign announcement in June 2015, Trump said he didn't "need anybody's money."
But by January 2016, months before he had secured the nomination, he was already starting to rethink that idea. He said he wasn't sure whether he'd use only his own money in the campaign.
On May 4, 2016, after he won the Republican primary in Indiana and essentially locked up the nomination, he said he wouldn't fund the entire fall campaign on his own and that he would start fundraising with the Republican National Committee.
In the end, Trump gave his campaign $66 million, but that accounted for less than 20 percent of all his funding.
Other candidates throughout the country have had varying levels of success with self-financing. In 2016, U.S. Rep. Trey Hollingsworth invested nearly $3.2 million in his campaign through personal contributions and loans to win Indiana's 9th District seat, which had been vacated by Young.
"It's not an aberration … for folks that are very well off to use their funds for political activities," Winston said.
In 2016, 12.5 percent of self-financed federal candidates won their race, according to Washington, D.C.-based nonpartisan research group The Center for Responsive Politics. In 2012, the odds were better, with 24 percent of such candidates successful.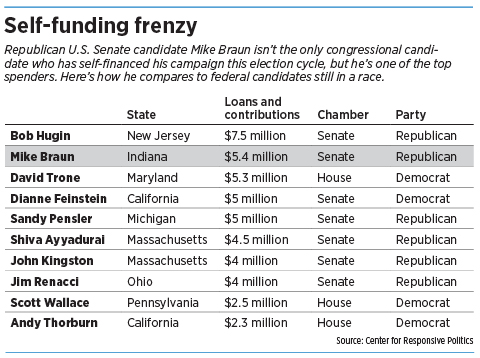 This year, dozens of federal candidates have invested millions in their own campaigns—but Braun has invested the second-highest amount among those still running.
New Jersey Republican Bob Hugin is the only candidate who has self-funded more than Braun so far, at $7.5 million, according to The Center for Responsive Politics.
Texas Republican Kathaleen Wall also put more into her U.S. House campaign than Braun has into his campaign, but she lost her primary race.
Some candidates choose to loan their campaign the money, with the hope of recouping the costs at a later date, while others fully commit their own funds without any expectation of being repaid.
Trump did not repay himself for the loans made to his campaign, but Braun appears to be interested in recouping his costs.
Recent fundraiser invitations obtained by IBJ suggest donors "contribute to debt retirement" if they didn't max out their primary gift, which indicates Braun intends to repay himself the more than $5.4 million he loaned the campaign.
"I think that's a key question he should answer for Hoosiers," Winston said. "And if so, who's going to be paying back his loan?"
It's unclear whether Braun will want to—or need to—put any more of his own money into the race.
"I would assume it's possible, but I just don't know for a fact," Savage said.
Grand said he doesn't think Braun will need to self-finance given all the support he's started receiving.
"I know that he's getting a lot of support from folks that I'm talking to," Grand said. "The focus is on the fall."•
Please enable JavaScript to view this content.