Kerauno, a maker of a communications workflow software, is revving its engine this month at the Indianapolis Motor Speedway.
The Indianapolis-based startup signed a deal with Andretti Autosport this year to help the IndyCar team better communicate with its sponsors, hospitality guests and other corporate partners and fans through a variety of electronic means.
Kerauno in January was spun out of locally based Axia Technology Partners LLC by brothers Josh and Jason Ross and has already grown to 50 employees.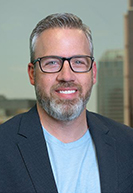 Jason Ross
Kerauno has actually been around as a platform for two years and the Ross brothers and their staff have been working on it for about five years.
Axia Technology Partners—or AxiaTP—is a business-to-business data network and voice company founded 10 years ago this month. The Ross brothers explained that Kerauno grew out of customer demand.
Kerauno is a platform that helps companies manage and streamline communication through email, text, voice mail, social media and private chats.
"The growth of Kerauno has been tremendous," said Josh Ross, the company's CEO. 
He said the company's growth is because its software was developed only after listening to customers' issues. "We're solving a real business problem,' Josh Ross said. "We're not force feeding [software] to clients."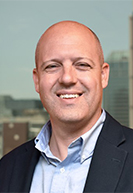 Josh Ross
The Ross brothers grew up race fans in Danville. So when they met Michael Andretti six years ago and got a shot to be his team's internet provider, they jumped at the chance. AxiaTP later became an Andretti team sponsor.
Six months ago, Josh and Jason Ross met with Andretti officials to discuss the team's challenges around its hospitality efforts. Visitors to Indianapolis Motor Speedway know how tough it can be to find their way to suites. Locating teams' hospitality areas, which are usually tucked at the south end of the track somewhere between turns one and two, can be even more daunting. 
Kerauno offers its clients a system to push notices and communication out to a set of people via a number of different channels in real time. In Andretti's case, the initial focus for Kerauno will be pushing information out to corporate partners and others who come out to the Speedway to visit the team and its hospitality area. The information could include ticket information, weather bulletins, directions to Andretti's hospitality compound and notifications about what time lunch is served and what's on the menu.
And since it has potential to be a two-way communications format, the system can also be used to handle RSVPs and client- or visitor check-ins. Users don't need to download an app. They can simply text into the system.
"What previously took the team two people to handle full-time has been completely transformed," Josh Ross said. "This is not just a racing thing. This communications platform is applicable to any industry."
Sports is definitely a target for Kerauno and the Ross brothers are looking at broader—more business-to-consumer—applications. They are testing one such B-to-C application this month, but don't want to reveal the details until it has been more completely vetted and data has been compiled. They noted that the platform's easy-to-use, two-way communication leads to numerous possibilities. In sports, concession orders, contests and giveaways come to mind.
"We think there's a broad use for this in live sports and entertainment events," Jason Ross said. "We don't think there's anything out there like this."
But the sports sector is far from Kerauno's only target. Company officials are also targeting companies in education, finance, government, health care and transportation and logistics. The Ross brothers said the platform will work with almost any sized company and can be customized for each client.
Kerauno clients pay an initial licensing fee then a monthly payment for the services they request. "We do think it's affordable," Josh Ross said. 
While the Ross brothers declined to discuss the company's revenue, they said Kerauno already has 200 clients in nine countries and is anticipating 300 percent growth this year over what it experienced last year under the AxiaTP umbrella.
Please enable JavaScript to view this content.