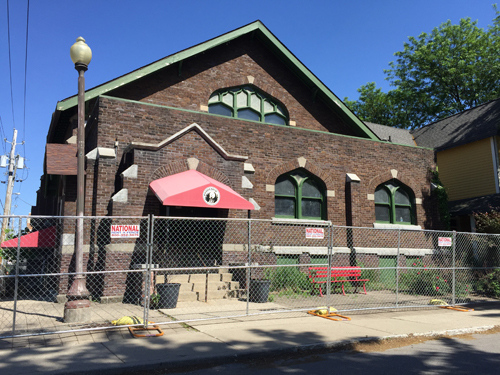 A local group that has purchased the former Phoenix Theatre building in the historic Chatham Arch neighborhood has plans to convert the structure into three luxury condominiums.
Phoenix Redevelopment Partners LLC paid $850,000 for the building in April 2016, county assessor records show. That was two years before the theater's move last month to its new, $11 million home at the northeast corner of Illinois and Walnut streets.
The former theater building at 749 N. Park Ave., one block west from where Massachusetts and College avenues intersect, was constructed in 1907 as a church. Since 1988, the 35-year-old Phoenix Theatre organization had staged its productions in the building, which formerly served as the St. Stephen's Missionary Baptist Church.
At 20,000 square feet, the theater's new building on Illinois Street is more than twice the size of its 8,400-square-foot former home.
The new owners of the Park Avenue building plan to add a third level as part of the conversion to three condominiums totaling 3,300 square feet each. Each condo will be three levels, including a below-ground floor. The tall ceiling in the theater area leaves enough space to add the third floor without altering the look of the building. 
The three-bedroom condos will be priced at roughly $1.1 million, said Robert Carr, a partner in the ownership group.
"We love the area and the neighborhood," he said. "We think we have the best location in the city."
Carr is a general contractor who operates Carr Property Group, which since 1993 has constructed apartments, condos and town homes.
He and his two partners plan to gut the inside of the building, pulling plaster off to expose the brick. The roughly 50 windows will be replaced or repaired, and the boarded-up windows in the lower level will be returned to glass.
In addition, new wood doors will be installed, the red awnings removed, and a rooftop deck added.
"I think people will be impressed and happy to see it when it's done," said Randy Swinford, a partner in the group.
They also plan to build a three-bay garage at the rear of the building, with lifts, to accommodate a total of six vehicles.
The group hopes early next month to begin work on the building, with completion estimated to take 10 to 12 months. They received approval of their plans in December from the Indianapolis Historic Preservation Commission.
The architect on the project is Indianapolis-based Lancer + Beebe LLC.
Please enable JavaScript to view this content.