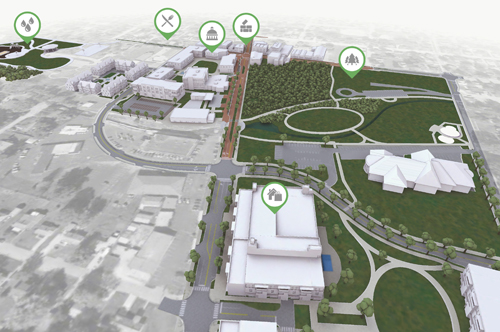 A local company's software is playing a big role in the city of Greenwood's plans to re-energize its downtown with new development.
Officials of the south-side suburb first engaged VisionThree about two years ago to design 3-D software that would depict Greenwood's downtown and future development plans more realistically than basic architectural renderings.
The result is a package of interactive imagery that Greenwood Mayor Mark W. Myers totes around on his iPad that he can show to potential developers at a moment's notice, with the goal of giving them lifelike views of the area.
"People get it and they understand it better," Myers said. "It gives them a much clearer picture of what our plans are, and it gets buy-in almost immediately."
VisionThree, located in downtown Indianapolis on North College Avenue, was founded in 2003 by Jeff Hopler and Eric Davis, who started by designing websites and creating content for CD-ROMs and DVDs. But they switched their focus to creating small- and large-scale 3-D interactive displays for use at public attractions, trade shows and in corporate settings such as sales presentations.
Myers learned of VisionThree from city staffers who watched company owners give a presentation on the 3-D software and left very impressed, he recalled. Once the mayor saw it for himself, he "was absolutely blown away."
VisionThree leaders impressed Myers by showing him a Rolls-Royce helicopter engine and using the software to make the motor run, and also tearing it apart piece by piece down to the very last screw, he said.
Greenwood is the first municipality to use VisionThree's software.
"To be able to put our downtown into a 3-D package and then make it transportable, which is the big thing, was just amazing," Myers said.
Hopler at VisionThree said it took about three months to develop the software.
"They were very forward-thinking with how to present the type of content and storytelling they wanted to get across," Hopler said of Greenwood's team. "It was a very innovative move for them, to go this direction and to create a virtual interactive environment. It paints nicely a picture of their future."
Greenwood's redevelopment plans focus on Old Town, the city's core, which is mostly contained to the intersection of South Madison Avenue and West Main Street. By adding 450 apartments and 130 townhomes within 10 years, the city hopes to draw more residents downtown by creating a commercial and residential hub.
Perhaps the biggest piece of the puzzle is the 19-acre Greenwood Middle School site at 523 S. Madison Ave., south of Main Street and City Hall. The city agreed to pay in January 2017 $1 million to buy the site for redevelopment.
The Greenwood Community School Corp. built a new middle school on Greenwood's southwest side that opened last fall. The city later this year plans to begin demolishing the old school, once nearby infrastructure and roadwork is completed, Myers said.
In the meantime, the VisionThree software has been integral to gaining developer interest.
"We've had developers come in from California and Florida because they've seen a portion of it," Myers said, "and it's gotten their attention."
The mayor appreciates the ability to interact with the software, in terms of changing an angle or direction to get a better view. Myers can even drill down far enough in the program to actually enter buildings, by touching "hotspots" connected to them.
Much of the program is an interactive 3-D map that VisionThree created by using some existing computer-aided design (CAD) software and making it look nicer, Hopler said.
"We gave it a very stylistic look," he said. "It's a very highly polished white-model look with some trees and grass."
Myers said the city spent about $60,000 on the software.
iPad in hand, he carts the software to meetings, whether there's only five in attendance or 100, and ties it into a projector to give his presentation—one that ultimately could transform Greenwood's sleepy downtown into a hub of activity.
Said Myers: "It's one of the most amazing things I've had the opportunity to work with."
Please enable JavaScript to view this content.