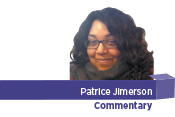 When I developed the diversity and inclusion strategy at Appirio, I took some time to map out the barriers I needed to tackle. As a company that leverages the cloud to create better worker and customer experiences, Appirio offers a unique opportunity to elevate the way technology is used to mitigate diversity and inclusion challenges.
Remote but connected
Appirio has more people working remotely than from an office. Teams might be dispersed not only across the United States, but around the world. Keeping Appirians connected with their teammates—and the organization as a whole—is tough. We use multiple communication tactics to drive effective meetings, cohesive teams and a highly engaged workforce.
Google's instant message program, for example, is an easy tool that allows for a more real-time connection than email. It also eliminates the cost of global phone calls and the challenges of playing phone tag. Another great example of such technology is Salesforce Chatter, which allows project teams and employee resource groups to share information with their target audience without bombarding other workers with emails that might not apply to them.
Using time more efficiently
Many organizations strive to reduce travel costs and in-person meeting time. This is especially applicable in sales organizations where time really is money. Therefore, instead of deploying computer-based training—which is not the most effective way to deliver diversity and inclusion content—I do virtual presentations via Google Hangouts or GoToMeetings.
If the session consists of a large group, I will normally be the only person on camera. However, the chat window remains available, and I'm always able to 'give the mic' to someone else for a real-time question. So, even though it is a large group, it begins to feel more intimate.
For smaller-group training—for example, a functional staff meeting—everyone is on camera and we are able to have more of a conversation than a presentation. These smaller trainings are highly engaging because I'm able to send pre-work before the meeting, and people have time to think about the content. Usually, the pre-work will be anything from a TED Talk or an article to a movie clip or commercial that has diversity and inclusion connotations.
Knowing what workers want
Appirio has recently launched a customized employee resource group effort called The Arc. Within that structure are "mini-arcs," which are similar to Lean In Circles. This is an effort specifically designed to drive a sense of connection and belonging among Appirio employees. We use a Google Form to collect information about the participants, then we assign them to a mini-arc that fits their needs, interests or goals. This automates the assignment process to some degree, and ensures that people are getting what they want out of their employee resource group experiences.
Elevating the experience for workers with a disability
Leveraging technology also makes the learning experience more opportune for workers who have a disability. Screen readers, large-print screens, customized desks, speak-to-type apps and home office setups allow marginalized professionals to work in ways that are not just comfortable, but engaging and satisfying.
Supporting global needs
Technology also makes improving cultural competency less prescriptive and more experiential. Last year, we held several virtual sessions on intercultural business skills. Our external partner—Berlitz—worked with us to create content specific to the needs of Appirio, which again was delivered as a virtual presentation. These sessions were recorded and added to our learning management system. This allowed us to track both touch (the number of people who completed the course) and reach (the number of countries served).
We selected Berlitz due to its outstanding virtual options that support not only traditional diversity and inclusion training, but also online modules that can be used to access training designed to better understand individual global cultures. This is foundational to a great sales experience as well as international team management. Plus, the tools can be accessed across multiple devices—which makes the content accessible for workers in any time zone.
Ultimately, technology makes home life versus work life less binary. It enables people to be where they need to be when they need to be there—which drives engagement and retention.
Appirians have the best personal technology I've ever seen in an organization, and each individual can leverage what he or she is most comfortable using to create an array of tools that best fits each person's work style and team.•
__________
Jimerson is global diversity & inclusion leaderat Appirio.
Please enable JavaScript to view this content.