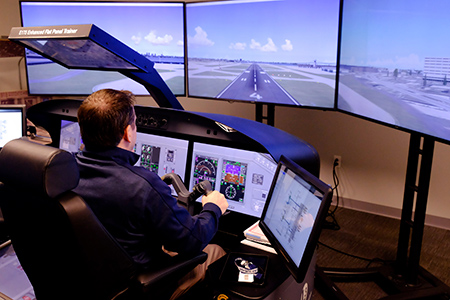 Republic Airways Holdings Inc. plans to open an aviation school at Indianapolis International Airport that will be capable of producing hundreds of commercial pilots each year, the locally based airline announced Thursday.
The school is expected to help Republic create 600 jobs in the state by the end of 2028, economic development officials said.
At an event at the airport featuring Gov. Eric Holcomb and Mayor Joe Hogsett, Republic announced the Leadership in Flight Training, or LIFT, Academy "will set a new standard in commercial aviation training, utilizing advanced technology and systems to train future aviators."
Company officials said the school, once it is operating at full capacity, will have room for about 350 students each year. The school will begin recruitment immediately with the first class slated to begin in September.
Republic and the rest of the airline industry has been grappling with a pilot-shortage issue for years. The regional carrier cited the shortage as one of the problems that drove it into Chapter 11 bankruptcy reorganization in 2016. Republic said it already hires nearly 600 commercial pilots annually, but that number is expected to grow by 30 percent over the next decade.
The goal of the LIFT Academy is to "create a direct pipeline of highly skilled commercial pilots for the airline," Republic said. All graduates will be offered jobs as first officer pilots with the company. In commercial aviation, the first officer is second-in-command on an aircraft to the captain. Entry-level pilots at Republic are paid about $60,000 a year, plus benefits.
Pending approval from its board, the Indiana Economic Development Corp. plans to offer Republic up to $4 million in performance-based Skills Enhancement Fund training grants and tuition assistance over a four-year period. The city of Indianapolis offered a 10-year personal property tax abatement contingent on future growth by the company.
Total tuition costs for the academy will be $65,000, which Republic says is lower than most other aviation schools in the country. It will also offer sponsorships and loan programs to accepted candidates.
"Opening this school in Indianapolis can be credited to the remarkable commitment by our state and city government leaders, our partnership with the Indianapolis Airport Authority and our desire to make aviation affordable and accessible to all interested students," said Republic Airways Senior Vice President Matt Koscal in written remarks. "Since our first flight back in 1974, Republic has had a strong and extensive history of being a top-quality employer—that's something we've worked hard to achieve and we look forward to adding to our team through LIFT."
The company said it plans to invest an undisclosed amount on training technologies. Students will use a fleet of new aircraft and simulators produced by Diamond Aircraft Industries, including the DA40 single-engine and the DA42 twin-engine aircraft.
The industry is expected to need 637,000 new commercial airline pilots worldwide by 2036 to meet demand, Republic said, due to factors such as pilot retirements and worldwide aviation growth. In the United States, the shortage is expected to reach 8,000 total pilots by the end of 2020.
The training process usually takes more than two years. Students typically take 12 months of classroom, online and flight instruction to become a Certified Flight Instructor, or CFI. CFIs are paid to instruct other students over another year to 15 months while completing the required flight time to become a commercial pilot.
Republic and Vincennes University on Thursday also announced the formation of a long-term training partnership that begins in 2019. Under the program, VU flight students can complete their training at LIFT Academy and become part of the Republic Airline career pathway program. Additionally, LIFT Academy students will have the option to pursue an online associate's degree from VU.
Republic Airline operates a fleet of about 190 Embraer 170/175 aircraft and offers scheduled passenger service with about 950 daily flights to 100 cities in 40 U.S. states, Canada, the Caribbean and Central America. The airline provides flights under partner brands of American Eagle, Delta Connection and United Express. The company has about 5,500 employees, including about 1,450 in Indiana.
Please enable JavaScript to view this content.