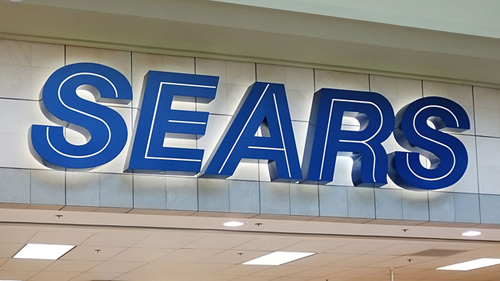 Sears Holdings Corp. plans to close its department store at Castleton Square mall in late July, the retailer announced Thursday afternoon.
The Indianapolis store was included on a list of 63 stores that Sears identified as "non-profitable."
Also on the list were Sears stores in Muncie and in Lafayette. Both also are slated for late July closures. Liquidation sales will begin as early as June 14, the company said.
The Sears store in Castleton, built in 1972, includes 20 acres of land and 217,299 square feet of leasable space. The two-story department store  occupies 196,064 square feet. It also has a one-story Sears Auto Center that contains 21,235 square feet. Sears is an anchor at the mall, which is operated by Simon Property Group.
The Castleton closure will leave the Indianapolis area with just one traditional Sears department store—in Greenwood. The retailer also has Sears Hometown Stores in Anderson and Greenfield, and a Sears Appliance Outlet Store in Speedway, according to its website.
The beleaguered retailer said it identified about 100 stores that are no longer turning a profit, and the majority of those locations will be closed soon. The list of 63 released Thursday includes 48 Sears and 15 Kmart stores.
After this round of closures, the company will have about 800 stores, down from about 1,000 at the end of last year and far below the 2012 peak of 4,000 stores.
Sears also posted a quarterly loss of $424 million and said store closings already underway contributed to a drop of more than 30 percent in revenue. That marks the more than five years of straight quarterly sales drops, according to FactSet.
Sales at established stores, a key gauge of a retailer's health, tumbled nearly 12 percent, down 9.5 percent at Kmart stores and 13.4 percent at Sears.
The decline in comparable-store sales, a key metric in retail, should be "alarming" to investors, said Noel Hebert, a Bloomberg Intelligence analyst.
"You've basically closed half the store base over the last few years and your 'best' stores are still negative 12 percent," he said.
Rob Riecker, Sears' chief financial officer, said in a pre-recorded call that the company's stores are "a critical component in our transformation."
But to meet customer needs and improve financial results, Sears must close poorly performing stores and "focus on our best stores, including our newer smaller-store formats," he said, according to a transcript of the call.
The latest closings underscore the deep-rooted problems at Sears, which was once a one-time powerhouse retailer that survived two world wars and the Great Depression but has been calving off pieces of itself as it burns through money.
"The demise of Sears has felt like a prolonged, drip, drip, drip as evidenced by the string of quarterly sales numbers," said Mark Hamrick, Bankrate.com senior economic analyst. "Essentially, it has been injury by a thousand cuts, whether by failing to staff stores to provide customers with good experiences or by failing to stock better quality merchandise in its stores."
Chairman and CEO Edward Lampert, who combined Sears and Kmart in 2005 after helping to bring the latter out of bankruptcy, has long pledged to save the famed retailer, which started in the 1880s as a mail-order catalog business.
But the stores have remained an albatross. And Kenmore, the retailer's renowned appliance brand, became the latest potential sale after ESL Investments, the company's largest shareholder, headed by Lampert, said it might be interested in buying it.
Sears also has made deals with Amazon. The company announced recently that shoppers could buy any brand of tires on Amazon.com, have them shipped to a Sears Auto Center and then bring in their car to get them installed. Amazon began selling Sears's Kenmore brand of ovens, washers and other appliances last year.
For the period that ended May 5, Sears lost $3.93 per share. It earned $245 million, or $2.29 per share, a year earlier, a quarter that included a $492 million gain tied to the sale of the Craftsman brand.
The weak financial results stand out amid higher consumer confidence and a solid economy. Other chains like Walmart, Best Buy and even other department stores like Macy's have posted rosier results.
Shares of Sears Holdings Corp., based in Hoffman Estates, Illinois, fell 11 percent, or 36 cents, to $2.86 on Thursday.
Lampert has been striving to revive the company by closing unprofitable stores and selling or spinning off assets like its Lands' End clothing unit and the Craftsman brand. But Sears has lost about $11 billion since 2012. Now it's hired a second set of advisers to re-shop its Kenmore appliance brand along with some home-services businesses.
In April, Lampert's hedge fund, ESL Investments Inc., said it was willing to purchase those assets itself.
"Our top priority is successfully executing our transformation to return to profitability and remain a competitive retailer for years to come," Chief Financial Officer Rob Riecker said in a prerecorded call.
The retailer said in a written statement that it plans to take further action "with respect to certain near-term maturities of our debt, including through repayments, refinancings and extensions." First quarter sales were $2.9 billion, compared with $4.2 billion a year earlier, Sears said.
A rally in Sears bonds triggered by the company's search for asset buyers is casting doubt on plans for reducing the retailer's debt, Lampert said earlier this week. He's the retailer's biggest shareholder and has been using his own money for years to keep the 125-year-old chain open.
Please enable JavaScript to view this content.