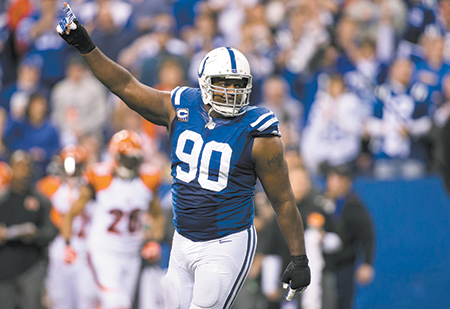 A former financial adviser who admitted to defrauding former Indianapolis Colts defensive end Cory Redding out of $4.7 million was sentenced Friday to seven years in federal prison.
Kenneth Ray Cleveland, 64, of Agoura Hills, California, received the punishment from U.S. District Court Judge Tanya Walton Pratt after pleading guilty to federal fraud and money laundering charges.
Cleveland also was ordered to pay full restitution of $4,706,066.86.
Redding, a defensive lineman, played in the National Football League from 2003 to 2016 and for the Colts from 2012 to 2014—during which he lived in Carmel. He now lives in Texas.
According to court records, Redding in 2003 decided he needed financial advice to plan for his life after football and was referred to Cleveland by a professor who taught business courses at his alma mater, the University of Texas.
According to the indictment, Cleveland proposed making relatively conservative fixed-income investments that would allow Redding to live off interest payments without depleting the principal.
However, by 2007, Cleveland had begun spending Redding's money for his own credit cards, mortgages, office rent and employee payroll, as well as payments to his mother, sister and daughter.
Prosecutors said Cleveland had told Redding that he had made him millions of dollars and used elaborate methods to cover up the losses. Redding didn't discover those losses until 2014, when he was ready to retire from football.
He played one additional season for the Arizona Cardinals, in which he was paid $3 million, to try to earn back a portion of what was taken, prosecutors said.
The total loss included $2 million Cleveland diverted to other clients to pay fictitious investment returns and principal, according to prosecutors.   
The case was investigated by the Federal Bureau of Investigation.
"People should have confidence that those they entrust with their hard-earned money will treat them fairly and honestly," United States Attorney Josh Minkler said in written comments. "This defendant exploited that trust through lies and deception for purely personal gain. Today's sentence underscores that such egregious conduct cannot, and will not, be tolerated."
Redding played for the Detroit Lions, Seattle Seahawks, Baltimore Ravens, Colts and Cardinals during his NFL career. In 2007, the Lions gave Redding a seven-year, $49 million contract that included more than $16 million in guaranteed money. The move made Redding the highest paid defensive tackle in the league at the time.
In his plea agreement, Cleveland fessed up to the fraud and said he hoped doing so would mitigate his punishment. "I hope to receive probation, but am prepared to accept any punishment permitted by law that the court may see fit to impose," the agreement says.
Please enable JavaScript to view this content.