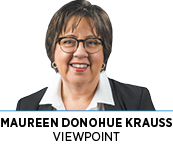 We stand on the brink of a possible trade war with our closest international trade partners, following the recent G7 summit and the U.S. administration's recent announcements of a 25 percent tariff on steel and a 10 percent tariff on aluminum imported from Canada, Mexico, Japan and the European Union.
Tariffs, or taxes, increase the cost of imported goods. Since this announcement, Canada and Mexico, Indiana's primary export markets, have responded by proposing a list of tariffs against the United States. This is Canada's strongest trade action in the post-war era.
Global trade helps drive the Indy region's economy, making it vulnerable to instability in international business. Almost 50 percent of Indiana exports are bought by Canada and Mexico, and the Indianapolis region provides more than 30 percent of the state's total exports. There are over 84,000 export-supported jobs in the Indianapolis metropolitan area, according to the Brookings Institution, so real people stand to suffer from any declines in trade.
International business hinges on long-term relationships, but rapidly changing trade policies make building and maintaining those relationships increasingly difficult. The steep rise in tariffs can damage businesses in the Indy region because they can:
◗ Increase manufacturing costs as steel and aluminum prices rise.
◗ Disrupt supply chains and make it more appealing for buyers to purchase goods from other parts of the world, rather than from U.S. and Indiana exporters. Small and medium-size enterprises, which account for 85 percent of Indiana's goods exporters, are more vulnerable to swings in the market.
◗ Further complicate NAFTA negotiations with Indiana's top two trading partners.
◗ Affect other industries, such as agriculture, if they are hit by retaliatory tariffs like those proposed by China against the United States.
It is imperative to weigh the broad effect of trade actions like these, as they can hurt far more Hoosiers working in downstream industries that use steel and aluminum. Just under 23,000 Indiana workers are directly employed in steel and aluminum production, compared to more than 300,000 employed in industries that use steel and aluminum.
These trade developments affect a broad array of industries. The story of how your business is affected matters.
Contact your members of Congress, state and local officials and trade associations with your story and concerns. We must examine how tariffs impact our region's ability to work with, not against, our international trading partners.
We must retain or create trade agreements that benefit everyone.•
__________
Maureen Donohue Krauss is chief economic development officer for Indy Chamber and Indy Partnership.
Please enable JavaScript to view this content.