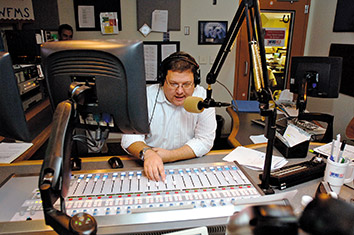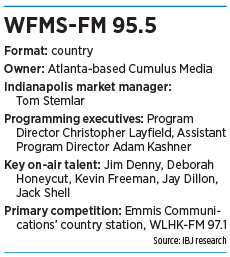 WFMS-FM 95.5 has two-stepped its way into territory it hasn't inhabited in 4-1/2 years.
For the first time since November 2013, the country station in April was the most-listened-to radio station in central Indiana, according to New York-based Nielsen Media Research. For an encore, WFMS repeated the feat in May, the last month for which Nielsen data is available.
WFMS—which is owned by Atlanta-based Cumulus Media—ranked No. 1 not only among all listeners, but also in the ages 18-to-49 and 18-to-34 subcategories, two demographics sought after by many advertisers.
That's also notable, because WFMS' audience has tended to skew older than that of rival Emmis Communications Corp.'s WLHK-FM 97.1, which launched as the only other country station in this market in 2005.
It's not as though WLHK—also known as Hank FM—is slumping. In May, it was No. 2 overall and is among the market leaders in every significant demographic set. And it outpaces WFMS in some time slots, especially in the 25-to-54 demographic, another key measuring stick for many advertisers.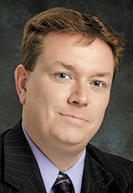 Uecker
"There are a lot of country listeners in this market. And you've got two powerhouse country stations here that are well-programmed and strongly and smartly promoted that right now are slugging it out at the top," said Scott Uecker, a University of Indianapolis communications instructor and general manager of WICR-FM 88.7. "Both of these stations do every aspect of radio well."
Still, it's clear WFMS is changing.
"WFMS has been strong, but as we got into the new year, we did put a lot into the station," said Tom Stemlar, Cumulus' local market manager.
While WFMS has long been a solid performer, it has slid to the bottom of the top 10 several times over the last decade. The middle and late 2000s were a far cry from the 1990s and early 2000s when WFMS was a perennial top-three station—and the king of country in this market.
In the first quarter of this year, Stemlar hired Christopher Layfield—an iHeart Media vet most recently in Charlotte, North Carolina—as program director. He also promoted Adam Kashner to assistant program director in charge of music selection.
Stemlar
Jack Shell, who has worked in Nashville and Detroit, came on as on-air talent for afternoon drive time.
Stemlar declined to elaborate but confirmed that WFMS—after investing significantly in research over the last year—made programming changes aimed at younger listeners, while being careful not to alienate the station's longtime fans. Stemlar said he and his staff also worked on branding—including in-house, on-air promotions—and "overall image and sound."
"We wanted to make it fresher, and you can hear it," Stemlar said. "I'm really not surprised we've pushed it up to No. 1 so fast. We've got a great team in place and they deserve a ton of credit."
It's an interesting strategy, given that the station is steering right into WLHK's strength.
Though Emmis officials, too, are tight-lipped about much of their strategy, Hank FM took off when a number of former WFMS staffers—including Market Manager Charlie Morgan and Program Director Bob Richards—joined Emmis in 2009.
And sources close to WLHK said the station was programmed—at least initially—to steer clear of some of WFMS' strongholds, while going after the younger audience WLHK thought WFMS was neglecting.
Morgan has since departed to oversee Emmis' New York operation, but Richards, who worked for WFMS for 14 years, has been promoted to Indianapolis market manager. While he certainly has an eye on WFMS' ratings, he told IBJ he's not overly concerned.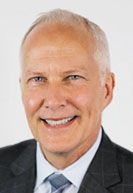 Richards
"We're more internally focused than externally," Richards said. And he's not convinced that WFMS' ratings surge has meant a decrease in listeners for WLHK or any station.
"It's difficult with Nielsen to say the growth of one station is coming at the expense of another," he said. "It's very complex."
And indeed, WLHK has seen ratings increases in each of the last three months. In May, 7.8 percent of the central Indiana radio audience tuned into WFMS while 7.1 percent tuned into WLHK, according to Nielsen.
IHeart's classic rock station, WFBQ-FM 94.7, was third, grabbing the attention of 7 percent of listeners.
Ad buyers told IBJ that WFMS' ratings lead is impressive, but they want to see if the station can maintain its position at the head of the class before they'll pay higher ad rates.
"It needs to be a minimum of a three-month trend," a local media buyer said. "A six-month trend is even better. The way the Nielsen system is set up, you can easily have one- or two-month anomalies in the ratings."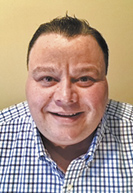 Layfield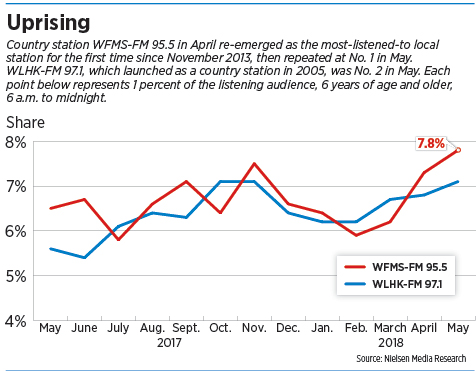 WFMS and WLHK are already strong local financial performers, local radio sources told IBJ, with one saying audited figures showed they were both "well inside" the top 10 in ad-revenue generation.
"That was before this recent ratings surge," the source said.
While ad buyers said there is far less interest in a station's overall listenership—Nielsen's 6+ age demographic—than in smaller demographic sets such as 18-to-34 and 25-to-54, Uecker thinks WFMS' re-emergence is cause for celebration among local Cumulus staffers.
"This is a big deal," he said. "It's a big deal for internal morale of the staff, it's something to brag about, and it reinforces that what you're doing on the air and through your event promotions is going in the right direction.
"Yes, they call the 6-plus demos the vanity numbers. But they hold significance nonetheless," Uecker added. "Clearly, whatever WFMS is doing, it's working."
But he said WFMS' biggest challenge lies ahead.
"Now that they've made changes and made a leap in the ratings … they have to be careful not to tweak the things that are working, but also not stand still and become static," Uecker said.
"There are a lot of factors to consider when programming and managing a radio station, so it's a difficult balance."
Stemlar promised that he's not done making changes.
"I'm pleased with how far we've come, but we're just getting started," he said. "We've got the hoods up on our stations 24/7 trying to make things better. We have work to do, and you're going to see some things that are different as the year goes on."
In addition to WFMS, Cumulus locally owns WJJK-FM 104.5, a classic rock station that was ranked No. 4 in the market among all listeners in May, and WYRG-FM 93.9, a top 40 station, which was at No. 19, according to Nielsen.•
Please enable JavaScript to view this content.