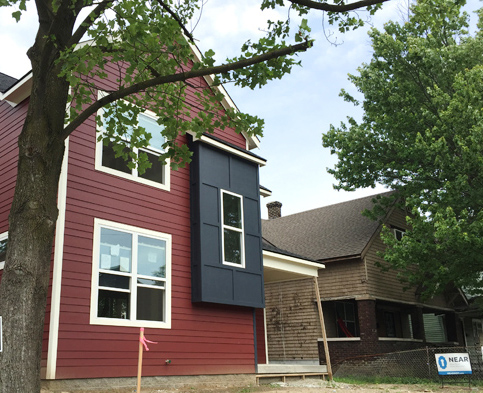 The first phase of a nearly $3.2 million effort to build 22 affordable homes for teachers on the near-east side is nearing completion.
City and neighborhood leaders in November unveiled the effort, called Educators' Village, which is mostly under construction on a two-block stretch of North Rural Street in the St. Clair Place neighborhood.
Leading the charge is the community development group Near East Area Renewal. The not-for-profit already has helped rehab or build 100 homes in the area, which for years has been littered with vacant lots and abandoned houses.
While the group is aggressively marketing the homes to teachers, they're technically open for purchase by anyone who meets specific income requirements, said John Franklin Hay, NEAR's executive director.
NEAR is hosting an open house from 11 a.m. to 3 p.m. Saturday to give the public, and ideally teachers, an opportunity to tour the first 15 homes.
"What's happening on Rural Street, in a two-block stretch, is really, what we think, going to be transformative," he said. "We're really excited about the possibility for the educators."
The aim is to provide an affordable-housing option for teachers of Indianapolis Public Schools and urban charters and to sway them to stay in the city instead of pursuing more lucrative teaching jobs in the suburbs.
The investment to build the homes comes from two sources. Through federal Community Development Block Grant funds, the city is contributing $561,000 to acquire property and abandoned homes on Rural Street and help NEAR build or rehab seven houses.
The Indianapolis Neighborhood Housing Partnership, through new markets tax credits, is kicking in $2.6 million to purchase property and homes and to help NEAR build or rehab 15 houses.
Those 15 are the first phase of the project and will be completed in July and August.
Teachers with an income at or less than 120 percent of the area median income are eligible to buy the homes. For a single person, the amount is $64,000.
Construction on the remaining seven homes will start in July. The threshold to qualify for those houses is 80 percent of the area median income, which is $43,000 for a single person.
Home prices will range from $170,000 to $193,000—the cost to construct them and nothing more, Hay said.
Buyers of homes built with the help of federal subsidies such as the CDBG funds and new markets tax credits must live in them for at least five years, to prevent them from flipping the houses at a higher price.
NEAR so far has conducted five informational sessions that have drawn 230 teachers, Hay said. More than 30 have completed the income qualifications process and eight have actually qualified, with one teacher already purchasing one of the homes.
Fifteen of the homes are on North Rural Street between St. Clair and 10th streets. Pearl Street Realty Group is the listing agent for those homes.The others are on North Beville and Eastern avenues.
Educators' Village stems from Mayor Joe Hogsett's campaign promise to tackle abandoned housing in inner-city neighborhoods and is part of the city's efforts to recruit and retain high-quality teachers. The city said it loses nearly 400 teachers annually from IPS alone.
Please enable JavaScript to view this content.