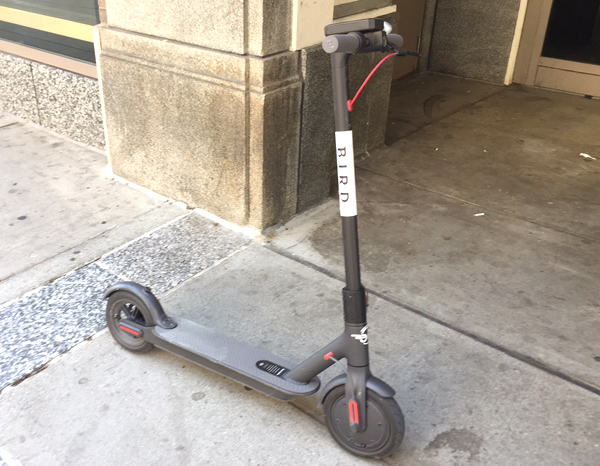 City officials are poised to put regulations on the motorized electric scooters that have been zipping around downtown over the past two weeks.
The hubbub over the dockless scooters started when Santa Monica, California-based Bird unexpectedly brought its service to Indianapolis on June 15, dropping off dozens of scooters on sidewalks downtown, in Irvington and along Massachusetts Avenue. The city's department of Business and Neighborhood services quickly asked the company to suspend operations until the city could work out a regulatory structure, but Bird hasn't acted on the request.
Eight days later, a second scooter-rental company, San Mateo, California-based Lime (formerly LimeBike) began deploying scooters in Indianapolis.
Members of City-County Council's Public Works Committee plan to meet Thursday night to discuss and vote on a proposed regulatory plan for dockless scooter rentals. The vote would have to be followed by a full council approval.
Council Vice President Zach Adamson told IBJ on Wednesday that "the proposal that we hope to pass will focus on a couple of things: primarily the accountability of the operators, where they're allowed to park these things, and the permitting and fee structures."
The work in Indianapolis appears to be going smoother than in some other cities. In Nashville, Tennessee, the city impounded more than 400 Bird scooters last month, and Bird agreed to halt operations there until regulations are in place.
Adamson also said that he wanted potential scooter riders to know that "it is currently illegal for people to ride them on the cultural trail, on the Monon Trail, and on sidewalks" because it is illegal to drive motorized vehicles of any kind in those spaces.
Adamson said the proposal "will not change the current law."
However, Adamson said people are free to ride the scooters in the street or in bike lanes.
The city did not model its proposed rules after those in any particular city, Adamson said. "What we did was we looked at some of the worst-case scenarios and crafted this to circumvent any of those awful situations."
The rules for the most part would be "common sense," he said, including that "you're not obstructing the thoroughfare, you can't block people getting out of cars, you can't put them in places where it would block a handicap accessible ramp, you can't block doorways."
Council President Vop Osili, who had initially proposed banning all dockless bike share systems, said he wanted to have a "pilot phase to see how these roll."
Osili also said he has a strong interest in making sure the new scooters "can benefit a broad swath of our city," not just downtown workers and tourists.
"I'd like to see their plans for how they roll them out to locations that have transportation and mobility challenges," Osili said.
The scooter companies are expected to speak at Thursday's meeting.
Bird spokesman Abraham White told IBJ last week that "we look forward to continuing to serve our new Indy riders as we work with city leaders to create regulatory framework that works best for the people of Indianapolis and helps them meet their goals."
Maggie Gendron, director of strategic development for Lime, said the firm had been waiting to launch its service in Indianapolis while the city worked toward a permit process that would allow the company to operate, determine the best locations for the scooters and "put things into place like insurance and indemnification of the city."
"We hope to still move forward with our idea of how we think it will both help the city and the companies stay sustainable," Gendron said. "That's what we will be talking to the city about, to continue to ask the city to move forward on a regulatory framework that can allow all of us to operate officially."
Gendron said Lime was surprised when Bird started operating in Indianapolis—and quickly had to make a decision about whether to follow suit without a permit.
"We as a company have to decide: Are we going to let another company essentially operate in this space or are we going to participate?" Gendron said. "We made the decision that we really want to be part of Indy as well, and providing a mobility network for all residents is important to us."
Asked about Osili's priority that scooter companies operate in areas outside of downtown, Gendron said Lime was open to that possibility.
"Equity is really important to us," Gendron said . "If the city as part of its regulations were to say, 'You have to equitably serve [neighborhoods],' we would wholeheartedly support that and figure out how to do that."
Please enable JavaScript to view this content.