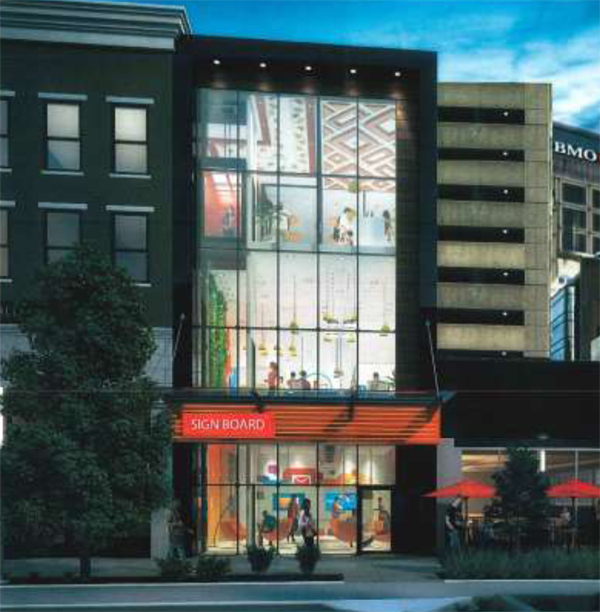 A historic building on one of downtown's most traveled streets is slated to get a makeover, with plans to convert it to co-working space for technology companies.
The vacant three-story structure at 44 E. Washington St., sandwiched between the Five Guys burger joint and Gallery 42, is owned by Veeshun PPT LLC. Veeshun, located on Allison Pointe Boulevard on the city's northeast side, bought it May 29 from Forty 4 Washington LLC.
Veeshun paid $825,000 for the 8,500-square-foot building, according to county assessor records.
The company is set to present its design plans on Thursday to the Indianapolis Historic Preservation Commission during what's known as a preliminary review. IHPC offers feedback during reviews but takes no action.
Veeshun, which describes itself as a real estate investment and management company, plans to launch the Rudder Hub co-working space in the building, with a venture capital studio in the basement, said Veeshun owner Chiedozie Okonkwo.
"The goal is to support a lot of tech startups," he said.
The building was constructed in the 1880s and had multiple tenants in its earlier years, including a picture frame manufacturer, laundry, shirt factory and bookstore/stationer, according to IHPC. Arsenal Savings and Loan moved to the location in the early 20th century.  
The present facade dates to the late 1950s and was installed while the bank was still a tenant. Georgian in design, the original facade was replaced with a mid-century curtain wall. Polished granite frames all three stories, with a ceramic tile band at the top and east ends.
Veeshun is seeking to install a new glass curtain wall and phenolic wood resin rainscreen system over the ceramic tile. The company also plans to install a new canopy and refurbish the granite.
"It's a shell at this point, so it will need quite a lot of work," Okonkwo said.
He's unsure at this point how much the company might spend on improvements.
Okonkwo hopes the renovations will be finished by the end of the year and "will hopefully improve the corridor."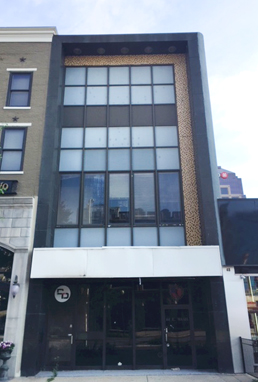 The building at 44 E. Washington St. currently is vacant. (IBJ Photo/Mason King)
The eastern section of that block on East Washington Street historically has been plagued by tenant turnover in recent decades. The building two doors to the west, at 38 E. Washington St., housed Frona Mae Dessert Cafe, which closed in September 2016 after a year in business. And the 36 Degrees sports bar last occupied 36 E. Washington St., which now sits empty. (IBJ Media's headquarters sits across the street at 41 E. Washington St., which the company will exit in March for new digs on Monument Circle.)
At 42 E. Washington St., next to Veeshun's property, is Gallery Forty-Two. The building, one of downtown's oldest surviving structures, received a new facade and an arched entry in 2013.
The architect on the Veeshun building is locally based Curran Architecture.
Please enable JavaScript to view this content.